The Benefits of Prepackaged Software for Business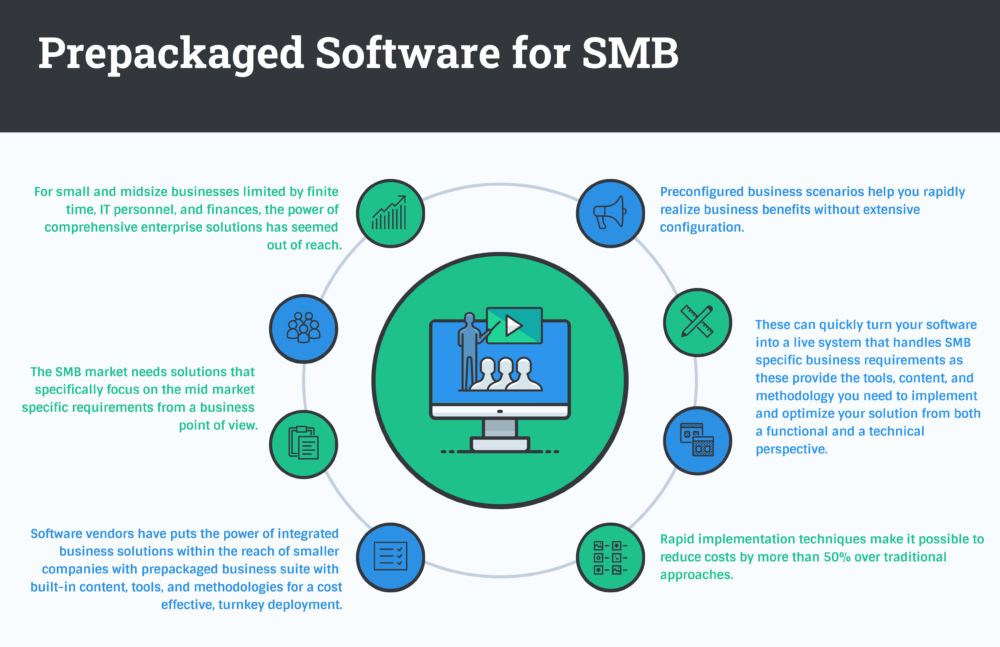 For small and midsize businesses limited by finite time, IT personnel, and finances, the power of comprehensive enterprise solutions has seemed out of reach. The SMB market needs solutions that specifically focus on the mid market specific requirements from a business point of view.
Software vendors have puts the power of integrated business solutions within the reach of smaller companies with prepackaged business suite with built-in content, tools, and methodologies for a cost effective, turnkey deployment.
Preconfigured business scenarios help you rapidly realize business benefits without extensive configuration.
What are the User Cases for Prepackaged software for SMB?
Solutions Tailored to Meet SMB Needs
These can quickly turn your software into a live system that handles SMB specific business requirements as these provide the tools, content, and methodology you need to implement and optimize your solution from both a functional and a technical perspective.
Rapid Implementation and Manageable Costs
Rapid implementation techniques make it possible to reduce costs by more than 50% over traditional approaches. The solution's scalability means that a company invests only once even when the organization changes or grows.
Prepackaged Business Expertise
These prepackaged solutions largely anticipate common business requirements of small and midsize companies and deliver exactly the documentation and configuration that is needed for a smooth evaluation and implementation.
Avoid the Beginners Mistakes
These prepackaged solutions help you avoid the system, business process, and configuration mistakes of those who start from scratch. As these contains solutions for the already identified potential pitfalls up front.
Build a Working Prototype
With prepackaged solutions, it only takes a few days to build a working, fully documented prototype that you can use as a starting point for your implementation.
Improve Project Performance and Communication
The prepackaged solutions represent integrated tools that can be used to evaluate and demo, train your project team, and implement solutions. All project members use the same tool, which leads to effective communication.