Teradata Purpose Built Appliance for SAS Analytics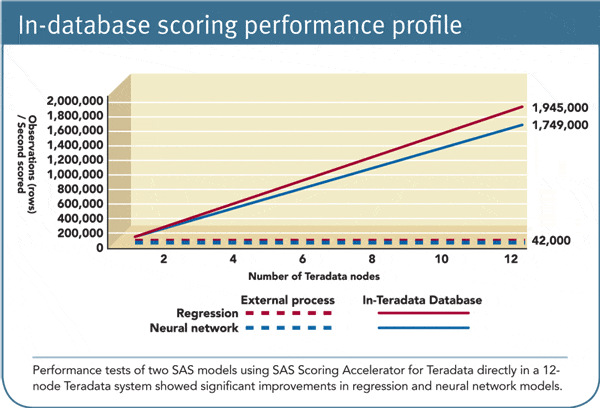 Teradata Purpose Built Appliance for SAS Analytics : Teradata introduced the expansion of the Teradata Appliance for SAS, Model 750. This appliance is the next-generation platform, superseding the Model 720, and now supporting expanded SAS in-memory analytics. Jointly developed by SAS and Teradata, this appliance is a companion to the Teradata Workload-specific Platform Family executing in-memory analytics directly against the data without having to move or duplicate the data to greatly improve performance and data governance.
With this appliance, customers can run SAS High-Performance Analytics Products, SAS Visual Analytics, SAS Visual Statistics, and SAS IMSTAT together on one system, simplifying a customer's infrastructure while reducing costs and accelerating performance. The appliance connects directly to Teradata's chosen interconnection hardware, Mellanox InfiniBand, enabling ultra-high-speed data access and processing of complex analytics. Contributing to the greater processing speed, the platform eliminates the need for data duplication, replication, and a silo data mart by simply lifting the data from the data warehouse into memory for analysis.
The Teradata Appliance for SAS delivers an integrated solution to dramatically increase the yield from current analytic modeling processes. This means that data-driven decisions can be made in seconds and minutes vs. hours and days. The appliance allows users to explore big data resources in finer detail, build complex data models and deliver strategic insights in a timely manner to mobile devices or dashboards.
"As organizations look to embed analytic decision-making throughout their operations they need their analytic solutions to be real-time, scalable, and high performance," said James Taylor, CEO of Decision Management Solutions. "Teradata and SAS have a long-standing partnership and the Teradata Appliance for SAS offers new levels of analytic scale with its support for SAS in-memory analytics. The new appliance offers a strong value proposition in terms of faster time-to-value at a time when big data analytics is dramatically changing many business models."
The new appliance has new Intel® chips for faster processing, expanded memory to manage more data and the ability to analyze data from Hadoop. This ensures continuous operation and data consistency, enabling data to be reused quickly as needed to support a wide variety of new analyses.
"The new appliance takes data processing to a whole new level. As in previous platform development, the new appliance combines the strengths of SAS analytics and the power of the Teradata to provide more sophisticated analytical capabilities," said Rick Lower, Director, Teradata-SAS Partnership Alliance. "The previous platform model was well-received, and we expect this one to attract more companies to the Teradata-SAS partnership as the business arena recognizes the business value of the subsecond conversion of raw data streams into business insight."