Review
Tenjin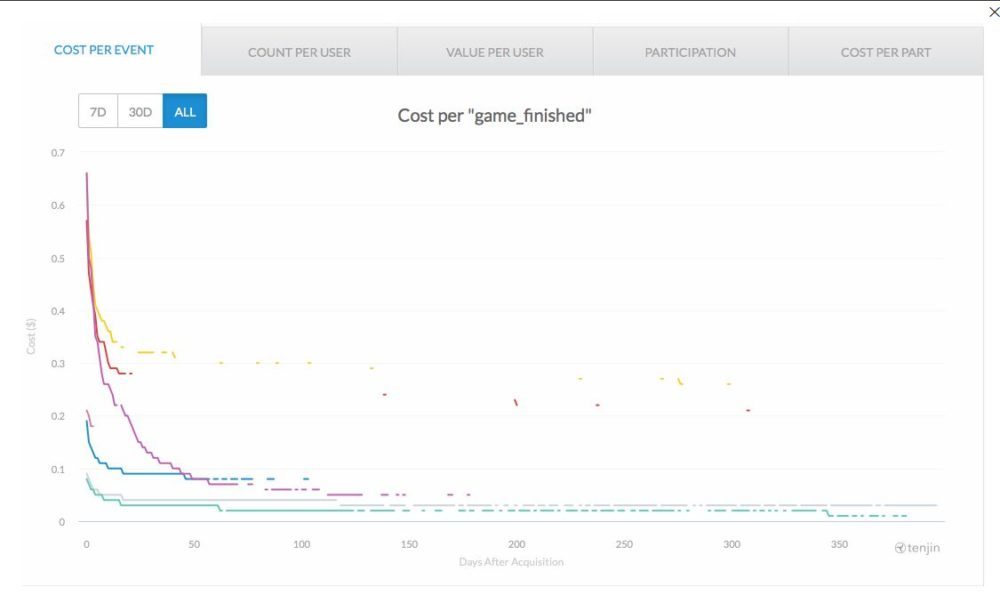 Overview
Tenjin brings simplicity and insight to your mobile marketing spending. With support for over 50 ad networks, Tenjin provides powerful tools for any marketer to analyze the source of their users, in-app purchases and advertising revenue.
Advertising Analytics Software
•Tenjin Tracker
•TrueROI
•Event Post
•CPX
•DataVault
•DEVELOPER: Free Up to 12M events/month DataVault: Last 7 days of historical data
•UNLIMITED: $3000/month Unlimited events/month DataVault: Unlimited historical data
Small (<50 employees), Medium (50 to 1000 Enterprise (>1001 employees)
What is best?
•TrueROI
•Event Post
•CPX
Tenjin can transform its users' mobile marketing infrastructure. Its developers understand the paradox of a career in tech marketing: that its mastery takes time, but technology moves increasingly faster. The game may keep changing, but Tenjin wants to be a consistent source of experience and support on its clients' journeys. The platform offers five solutions:
Tenjin Tracker assists users to track the source of their customers and potential customers with Tenjin's mobile attribution. TrueROI combines ad spend, in-app revenue and ad revenue to understand ROI. Event Post uses one SDK to send events to any other service or ad network. CPX evaluates campaigns according to the metrics that matter to Tenjin users. DataVault gets direct access to users' data and performs custom analyses without having to build their own infrastructure.Tenjin was originally created to scratch its developers' own itch.
Its development team has extensive experience in the mobile marketing world and user acquisition, so they have a unique insight into their clients' plight. Their ambition is to be the go-to-people in every company for mobile marketing expertise. Tenjin experts will teach their users how to mine the depths of their data using this platform. They also have regular training events to keep users in the loop about developing strategies. And By standardizing mobile marketing data, Tenjin has created an opportunity for everyone to get smarter.
As Tenjin members, users are able to connect and share insights in the private Tenjin forums. They get to benefit from the experience of their peers, and they have the opportunity to share their own skills and become stars of the community themselves.
You may like to read: Top Advertising Analytics Software, How to Select the Best Marketing Analytics Software for Your Business and How to Select the Best Web Analytics Software for Your Business