TECSYS Healthcare Strategic Focus with TECSYS Healthcare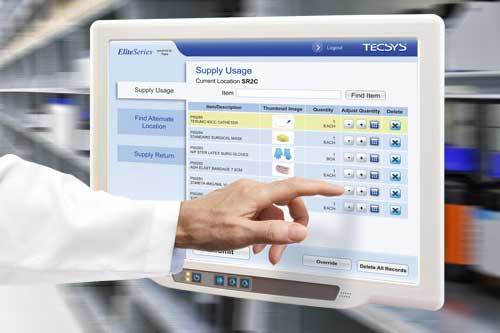 TECSYS Healthcare Strategic Focus with TECSYS Healthcare : TECSYS will be consolidating its healthcare market offering under the new designation of TECSYS Healthcare. Focused exclusively on hospitals, health systems and healthcare operations, TECSYS Healthcare reinforces the Company's commitment to supporting better patient care through continued development of end-to-end solutions designed specifically for the healthcare supply chain. TECSYS Healthcare represents dedicated industry focus that is deeply connected to the realities of a fast-evolving hospital and health system landscape. Guided by an overarching goal of enabling excellent patient care, TECSYS Healthcare ensures on-time delivery of supplies by streamlining and simplifying end-to-end enterprise visibility. TECSYS Healthcare equips health systems to transform their operations into a transparent, efficient and optimized supply chain network, closing performance gaps from the warehouse to the bedside.
TECSYS Healthcare is further differentiated by its healthcare-focused product portfolio, featuring a healthcare-specific solution platform and product architecture that has been carefully curated and consolidated on a common platform for ease of deployment and scalability. Of unique value to the healthcare market, the resulting portfolio is the most comprehensive offering globally, supporting world-class hospital performance objectives from the point of reception to the point of use.
"Hospitals and health systems face performance, compliance and financial pressures from multiple sources, both internally and through external legislation. Existing supply chain infrastructures are challenged by these pressures, resorting to point solutions to address issues as they arise," explains Nancy Pakieser, Sr. Director TECSYS Healthcare. "TECSYS Healthcare was established to help reduce the convolution introduced by a crowded point solution industry, and secure ongoing supply chain performance, by consolidating capabilities on a unified platform."
Continues Pakieser, "We are seasoned healthcare supply chain experts representing stability and confidence in an otherwise unpredictable environment, and endeavor to share that knowledgebase through myriad avenues.quot; Instrumental to the TECSYS Healthcare ethos is ongoing engagement and contribution to the healthcare supply chain community; as members of this industry, TECSYS Healthcare seeks to participate in the creation of fulfilling content via educational tracks, informational conferences and interactive resources. Seeking to understand shifting challenges and themes, as well as refine best practices, the value TECSYS Healthcare delivers is a product of its thorough immersion into the industry.
"We have a remarkable track record of delivering on a broad spectrum of healthcare supply chain challenges, and this ability to do so is well acknowledged in the market," comments Peter Brereton, President and CEO of TECSYS Inc. "We are now sharpening the focus on this segment of our business by putting the resources and infrastructure in place to ensure that these hospitals and health systems continue to be well supported throughout their engagement with TECSYS."
In addition to its differentiated product portfolio, TECSYS Healthcare will be represented by a distinct brand and visual identity designed to highlight a simplified and consolidated offering that focuses on healthcare supply chain performance fulfillment.
TECSYS provides transformative supply chain solutions that equip our customers to succeed in a rapidly-changing omni-channel world. TECSYS solutions are built on a true enterprise supply chain platform, and include warehouse management, distribution and transportation management, as well as complete financial management and analytics. Customers running on TECSYS' Supply Chain Platform are confident knowing they can execute, day in and day out, regardless of business fluctuations or changes in technology, they can adapt and scale to any business needs or size, and they can expand and collaborate with customers, suppliers and partners as one borderless enterprise.