Talend Updates Big Data Sandbox with New Apache Spark Scenario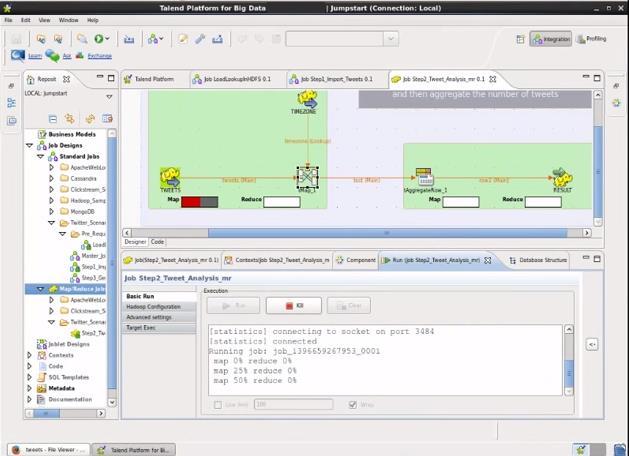 Talend Updates Big Data Sandbox with New Apache Spark Scenario : Talend, the global big data integration software leader, updated its Big Data Sandbox, a pre-configured virtual environment that provides companies a no-risk, zero-cost way to begin their big data journey. The Sandbox includes a 30-day evaluation of Talend's latest Platform for Big Data (version 5.6), which sets new benchmarks for performance and productivity, as well as step-by-step guides, ready-to-run scenarios and a single-node Hadoop distribution based on Cloudera, Hortonworks or MapR. Talend's Big Data Sandbox for Cloudera now offers a new real-time Apache Spark scenario. This allows users to gain first-hand experience with Talend's Spark components interacting with Cloudera's built-in Spark engine running on a YARN client without the otherwise complicated and lengthy installation and configuration process. The Spark scenario reduces setup time from weeks to minutes and showcases the ease with which Talend can connect to the Spark engine to unlock its significant potential.
In addition to a new Big Data Sandbox, Talend also introduced a streamlined way for companies to evaluate Talend Enterprise Data Integration. A zero-install version is now available in the U.S. market, allowing users to try the full product capabilities through a web browser using an online virtual environment. With nothing to download, install or configure, users can be up and running in seconds. The zero-install Data Integration solution joins the full range of Talend solutions which are available for free evaluation, including everything from its Master Data Management solution to its latest product release, Talend Integration Cloud.
"We continue to invest in our trials because we know that once users experience our products first hand, they will quickly recognize the agility, value and power that Talend provides," said Ashley Stirrup, chief marketing officer, Talend. "As reflected in the success of our download program, companies are becoming frustrated with legacy integration software and they are searching for a better path to Hadoop and becoming data driven. Our latest Sandbox is not only a great way to get up to speed on Hadoop, but also the latest cutting-edge big data innovations and use cases such as Spark."
In 2014, full-version trials including Talend's Big Data Sandbox jumped 125%. Continuing to support the wider community, downloads of Talend's free open source tools grew 60%. This momentum continued in Q1 2015 with total downloads reaching over 120,000, representing a quarter-over-quarter increase of more than 50%.