Talend provide New Customer Insight and Increased Loyalty for Granite Analytics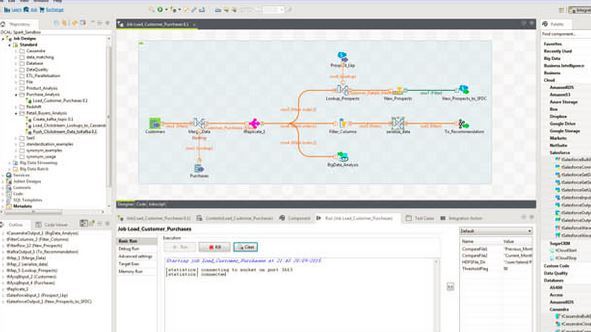 Talend provide New Customer Insight and Increased Loyalty for Granite Analytics : Granite Analytics, a cloud-based analytics firm, has deployed its Talend Enterprise Data Integration solution to help wholesale distributors and retailers be more responsive to customer needs and interactions by providing them with actionable insight. Importing data into distribution software is pretty straightforward, but if you want to analyze that information and generate reports to have the most up-to-date view of a customer account, it becomes more of a challenge. Better decisions start with more informed insight. Granite wanted an easy way to provide its wholesale distributors with a rich analytics dashboard that leveraged customer data to deliver actionable insights for each account interaction—ultimately making the customer experience more fulfilling. With Talend Enterprise Data Integration, Granite is able to easily integrate many sources of data, so its clients can gain a 360-degree view of their customers.
"Many data integration platforms promise no coding, but all they really do is add a series of buttons and drop-downs to try and simplify the process. Unfortunately, it just ends up making it more complicated," said Mark Sanders, CIO, Granite Analytics. "Talend strikes a really nice balance in terms of features you can just drag and drop, as well as customizable tools—things you don't find in competing solutions. We are really pleased with the final solution, which is now fully functional, deployed in a private cloud, and delivers a dashboard with insight our customers have never had before. Distributor interactions with their customers are significantly improved as they now have up-to-date insight on trends, brands, product categories, product data and purchasing patterns."
Talend Enterprise Data Integration offers the fastest, most cost-effective way to connect data with a robust, open and scalable data integration platform that maximizes business value. With Talend, reporting became easily customizable and reports were generated quickly and effectively so Granite customers could use that data to improve communications, build customer relationships and increase profits.
Granite is actively demoing its new solution with distributors and is excited to bring new insight to an industry that has been mired in generic order taking and reactive sales practices. Leveraging customer and product data, Granite can empower distributors and the retailers they serve to make more informed connections during the sales cycle.
"For a distributor trying to sell thousands of products to a variety of customers, it's a challenge to communicate the value of each on a customized basis," said Brad Stratton, Senior Vice President, Worldwide Sales, Talend. "In today's 'age of the customer,' the transformative effects of how informed interactions can enrich the customer experience and inspire company loyalty are immense. That's exactly what Talend Enterprise Data Integration aims to deliver — meaningful, data-driven customer engagements."