Talend Integration Cloud for 360 Degree View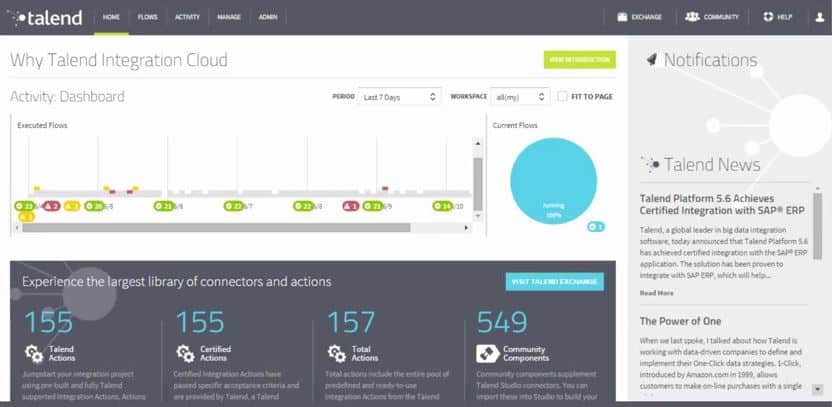 Talend Integration Cloud for 360 Degree View : Talend Integration Cloud is a secure and hosted platform for connecting all cloud and on-premises data and applications. It adds an innovative Remote Engine, sandbox functionality, Talend Data Mapper and a range of new cloud and on-premises app connectors, including for Salesforce Analytics Cloud, SAP and NetSuite, which help simplify the development of cloud-to-cloud and hybrid integration flows. It also offers a user defined dynamic schema that makes it far easier to work with generic actions for Excel, CSV and Positional data conversions.The addition of a new Remote Engine is significant and enables the remote execution of all types of deployment scenarios and any combination of cloud or on-premises flow, optimizing agility and cost control. Remote Engine can be used to easily connect on-premises data sources and applications, from Excel to SAP, in addition to Cloud sources. It also provides a fully secure solution for connecting applications and data that are on different sides of the firewall.
"The latest update, especially the addition of Remote Engine, helps punctuate the fact we have the most powerful hybrid integration offering on the market today," said Laurent Bride, CTO, Talend. "While representing significant value for new customers, Talend Integration Cloud is also an ideal way for existing on-premises solution users to begin to test and transition jobs to the cloud."
Existing Talend Integration Cloud customers and users of the free trial are being automatically upgraded to Summer '15. New customers may start the free 30-day trial which includes the web-based designer and integration tools, as well as free access to an online community with over 1,000 packaged connectors, components and templates.
Reinforcing the need for hybrid integration solutions, in a recent Talend survey, 50 percent of companies indicated they have five or more SaaS apps. This figure is on the rise with IDC reporting that purchases of SaaS apps are growing five times faster than on-premises. At the same time, Gartner predicts that 66 percent of integration flows will extend beyond the firewall by 2017 and 65 percent will be developed by the line of business.
This increase in integration flows extending beyond the firewall, and sometimes even beyond the direct control of IT, is intensifying the challenge on the team tasked with unifying data sources across the company. Talend Integration Cloud helps ease this burden by enabling IT to respond easily to increasing volumes of data without breaking their budget using a hybrid integration platform. The solution allows IT to shift workloads from on-premises to run in a secure cloud with cloud-to-cloud or cloud-to-ground connectivity. At the same time, Talend Integration Cloud offers a simple web-based interface to enable IT to provide business groups with self-service integration capabilities, while still maintaining controls and safeguards.