Talend enhances Big Data Performance, Streamlines IoT Connectivity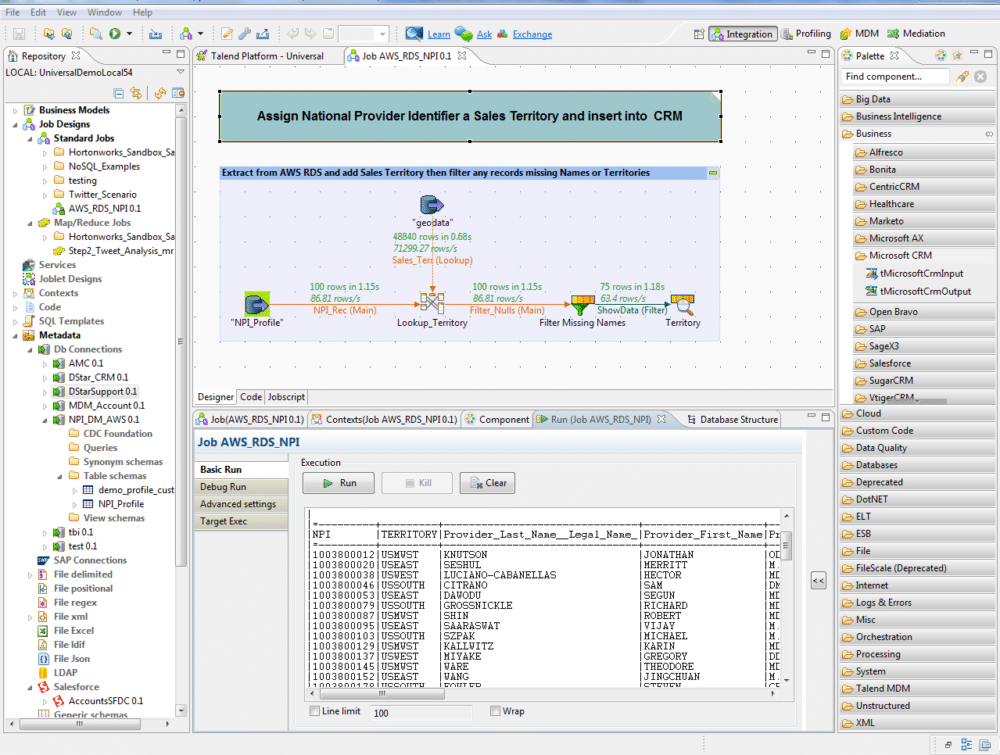 Talend enhances Big Data Performance, Streamlines IoT Connectivity : Talend 5.6 enhances Big Data Performance, Streamlines IoT Connectivity, Introduces Support for Real-Time Projects and Delivers Unprecedented MDM Speed and Agility. Talend 5.6 initiates support for the latest Hadoop extensions, Apache Spark and Apache Storm, offering significant performance advantages and enabling real-time and operational data projects.
"Talend 5.6 reinforces our commitment to accelerating the adoption of Hadoop and being at the forefront of innovations that enable our customers to immediately recognize the benefits of new framework advancements," said Laurent Bride, CTO, Talend. "From enabling new use cases to boosting performance and productivity across-the-board, Talend 5.6 is packed with the capabilities that enterprises need to make today's data projects even faster and easier, as well as support the increasingly complex big data requirements directly ahead."
Talend 5.6, is introducing cutting-edge previews of features for leveraging Apache Spark and Apache Storm. The latest support allows companies to experience how Talend enhances and streamlines new big data use cases including using Spark to speed massive batch analysis jobs, interactive queries and graph processing by as much as 100 times or employing Storm for the high-performance analysis of 'data in motion' or streaming information.
The Otto Group is the world's second-largest online retailer in the end-consumer (B2C) business and Europe's largest online retailer in the end-consumer B2C fashion and lifestyle business, with over 54,000 employees, operations spanning 123 major companies in more than 20 countries and sales of 12 billion euros. Otto is using the Talend Platform to enable uniformed access to numerous internal and external data sources from a centralized location.
"Using Talend, the Otto Group has been able to make quicker and smarter decisions around product lines, improve forecasts, reduce leftover merchandise and importantly, improve our customers' experience," said Rupert Steffner, Chief BI Platform Architect, Otto Group IT. "With 5.6, Talend is keeping pace with our desire to continually improve and remain ahead of the competition by efficiently analyzing more high quality data that can be immediately acted upon to further advance operations and customer service."
In addition to ingesting real-time and operational big data to allow for instant decisioning scenarios such as dynamic pricing, cart-abandonment defense or fraud prevention, Talend 5.6 also improves the performance of MapReduce big data processing projects. Supporting machine-generated content or IoT devices is another focus of Talend 5.6. With more devices becoming embedded with sensors and the ability to communicate, the IoT is providing businesses with new data points to help inform business decisions, optimize processes, and reduce costs and risk. Talend 5.6 introduces support for two related protocols (MQTT and AMQP) that will enable the sensor data to be directly ingested into companies' real-time data integration workflows.
As the foundation for controlling data-driven processes, Talend 5.6 also adds some dynamic new functionality to MDM that helps streamline data model changes, lineage traceability and matching. As a result, Talend 5.6 can cut the time needed to update master data models in half and double the speed of data cleansing. Combined with the new MDM activity dashboards, Talend 5.6 provides data stewards with the visibility and control they need to complete projects on time and to the highest standard. Talend 5.6 continues to add to its extensive list of over 800 application connectors and components with the introduction of support for Oracle GoldenGate CDC, Microsoft HDInsight and enhanced connectivity to SaaS solutions including Salesforce.com, Marketo and NetSuite.