Review
Tactile CRM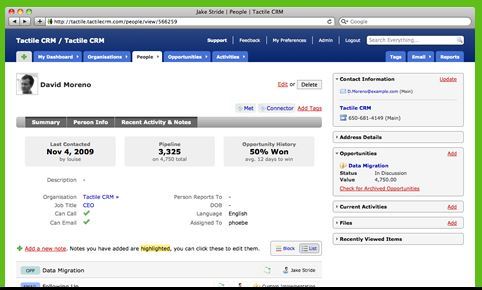 Overview
Tactile CRM you can keep track of the people and companies you do business with, opportunities in the pipeline, communications with them, and what needs to be done next.
•Sales Pipeline & Opportunities
•Shared Address Book
•Seamless Email Integration
•Conversation & Contact Log
•Reminders & Calendar
Small (<50 employees), Medium (50 to 1000 employees), Enterprise (>1000 employees)
Online Support, Phone Support, FAQ Knowledge base, Video Tutorials
What is best?
•Sales Pipeline & Opportunities
•Shared Address Book
•Seamless Email Integration
What are the benefits?
•Conversation & Contact Log
•Reminders & Calendar
Tactile CRM is an easy to use web based contact and sales management system. It's great for managing sales pipeline, contacts, notes, emails and activities in one place.Tactile CRM lets you easily record every email, note, telephone call, meeting and activity, so that you can quickly see every interaction.
Tactile CRM also lets you search contacts and set up activities to remind you of outstanding actions; assign organisations and activities to other users with email notification; share information on clients and contacts by using access control.
Tactile also categorises your contacts, Import and Export data from Microsoft Outlook, Google, csv files, vCards and more; create mailing lists to send emails using the tagging system.Tactile CRM has a shared address book that lets you access your address book online and share contact details with members of your team.
Tactile CRM's address book software makes it simple to: store all your contacts in one place; share your contacts with your team's members; use access controls to decide who can see which contacts; access your address book from anywhere.
With Tactile you can: view a real time overview of sales using your dashboard; view your pipeline and sales using a graphing engine; Track Opportunities through your sales stages; create reports.Tactile helps you to manage your activity list and your diary. You can forward important client emails to the system or send an email and Tactile will do the rest.
Tagging features allow you to: tag, search on tags, search on multiple tags and Mass tag actions such as remove a tag, delete all items with a specific tag, etc.
Tactile CRM allows you to easily upload files and securely stores (using Amazon's S3 storage) and back them up, manage email attachment and shares files with colleagues.With Tactile you can: View invoices and add new customers to FreshBooks, Subscribe people to your mailing lists with Campaign Monitor, Import contacts from Google, ShoeBoxed and Cloud Contacts and View support tickets from ZenDesk and look up Tactile CRM details too.
You may like to read: Top Sales Force Automation Software and How to Select the Best Sales Force Automation Software for Your Business