Sysomos Smart Social Marketing Platform Uniting All Social Management Functions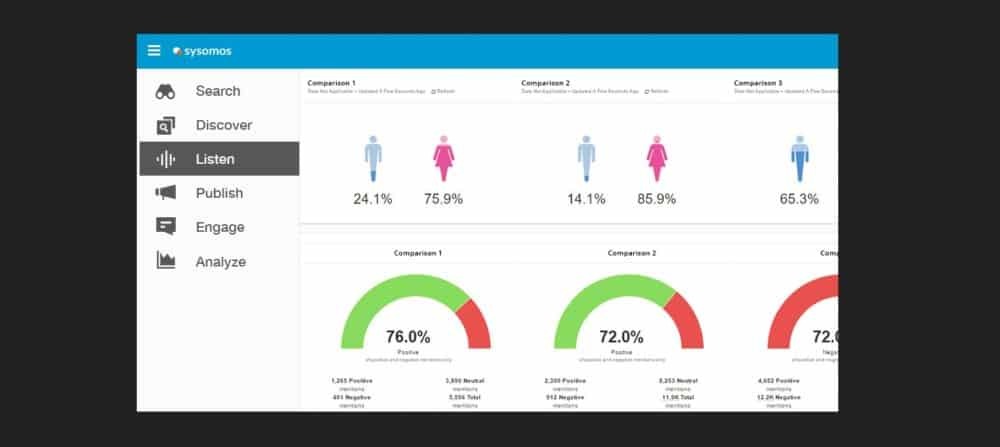 Sysomos Smart Social Marketing Platform offers most comprehensive and flexible social marketing and analytics platform that not only unifies all social management functions and capabilities, but also gets smarter as it shares content and insights across all Sysomos applications. The Sysomos Platform provides more prescriptive insights for marketers by consolidating and cross-informing campaign initiatives. By intelligently linking applications to Search, Discover, Listen, Publish, Engage and Analyze on social media, the Sysomos Platform now gives marketers access to all the paid, owned and earned data needed to create strategic campaigns, take action in real time and measure those actions in one upgraded user interface. Furthermore, with role-based customization, users can design their own workspaces to access the insights that matter most to them. The Sysomos Platform also is one of the first to incorporate artificial intelligence (AI) that discovers and automates unseen insights, showing marketers how to instantly take intelligent action. The algorithms uncover correlations, anomalies and associations by using machine learning to process trillions of data points every second. With the Sysomos Platform now integrating and aggregating millions of digital data streams, the company plans to accelerate development of more advanced AI for the social analytics industry. In addition to the Platform's ability to instinctively inform and share data insights across applications, Sysomos -- which counts brands like Mondelez, Coca-Cola, Marriott and Yamaha among its customers -- distinguishes itself from the competition with unique strengths, including:
The Sysomos Platform integrates listening with publishing and engagement capabilities, allowing users to discover trends in real time and curate content that can be applied immediately to cross-channel campaigns. For instance, if a company discovers its brand virally trending on Instagram, it can engage with users and leverage their content all within the same platform. Sysomos can measure campaign efficiency as well as evaluate the earned media impact within the same platform. Using Sysomos' market-leading listening and search technologies, marketers can assess the effectiveness of their ad messaging based on the text and visual content their audiences share, and whether it had an impact on the overall conversation for the brand. While the complete Sysomos Platform encompasses all the Search, Discover, Listen, Publish, Engage and Analyze applications, companies that have one of the applications easily can activate the others. The Sysomos applications previously were named Map, Gaze (acquired in 2015), Heartbeat and Expion (acquired in 2015); now Map is part of Search, Gaze is part of Discover, Heartbeat is part of Listen, and Expion is part of Publish, Engage and Analyze.