Sysomos Enable to Better Plan, Manage and Measure Social Campaigns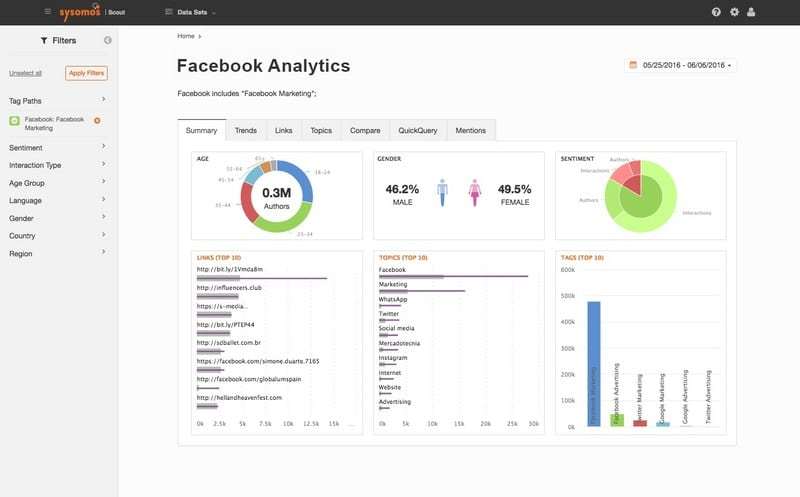 Sysomos Scout is a Facebook analytics tool that brings the world's largest focus group, Facebook's 1.39 billion monthly users to marketers' fingertips, enabling faster, more informed decisions using Facebook topic data from DataSift. By unlocking conversations, sentiment and trends across Facebook, Scout helps drive greater ROI from paid Facebook campaigns, improving engagement rates and positively impacting a company's share of voice.
"Today, marketers aren't just tasked with launching campaigns, they are expected to measure and refine them to maximize impact," said Mark Young, chief marketing officer of Sysomos. "Successful marketers are acutely aware of their target audiences and they develop content and campaigns that resonate with their followers. This doesn't happen by chance though -- forward-looking brands are looking for advanced analytics that better inform their marketing strategies and improve their efforts and spend -- in near real time."
"Sysomos Scout has been invaluable in helping us gain critical social intelligence about our audiences," said Bob Pittman, Chairman and CEO, iHeartMedia, Inc. "We can analyze our stations, our digital assets and our events against the organic fan interactions taking place around a brand to help advertisers' better target and improve every campaign."
In addition to the general availability of Scout, marketers can now benefit from enhanced features, performance and speed in both MAP (the proven social research engine that delivers deep, actionable insights) and Heartbeat (the tool that monitors, analyzes and understands all the conversations that make a difference to a business).
With these updates, marketers can research based on their needs -- through ad-hoc queries or through deep analytics both at size and scale across multiple social platforms. Additionally, users can quickly create customized dashboards to support and inform their social campaigns. Team members have the ability to subscribe to these dashboards, allowing the right stakeholders to view the latest social data to gauge the success, growth or shortcomings of a campaign or launch. The advanced analytics from Scout, MAP and Heartbeat can greatly impact the success and profitability of marketing campaigns. In practice, the benefits of leveraging these products to help inform key decisions around campaigns include: MAP for minute-by-minute, ad-hoc research and discovery of people, topics and news across social networks to help identify trends to tie to or unanticipated topics to avoid leading up to the launch of a campaign.
Heartbeat to monitor and track conversations, influencers, hashtags and campaigns relevant to your brand to proactively keep your finger on the pulse of issues that are critical for your business. Scout to identify the most discussed features or topics on Facebook, the world's largest social network and focus group available during and following the campaign enabling the team to take action by putting paid behind messaging, audiences, demographics and geographies where its resonating best.