Review
SweetProcess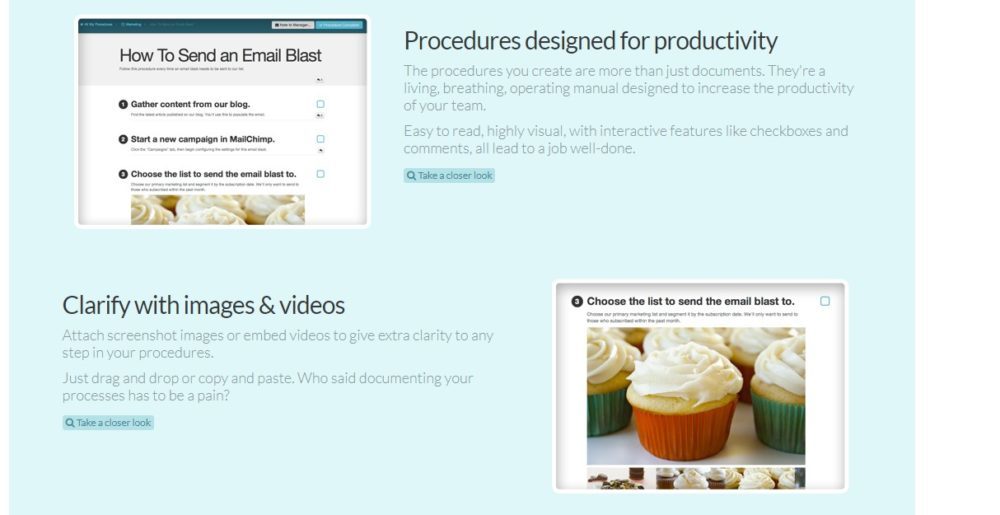 Overview
SweetProcess is used to Document all those repetitive tasks that eat up your precious time, so you can grow your team and grow your business.
• Free up your time
• Employee turnover without the set-backs
• Reduce errors and re-do's
• Add value to your business
• $39 per month for a team with up to 8 active members + $5 per month for each additional active member
Small (<50 employees), Medium (50 to 1000 Enterprise (>1001 employees)
What is best?
• Free up your time
• Employee turnover without the set-backs
• Reduce errors and re-do's
• Add value to your business
SweetProcess is a SaaS solution for mid-sized, enterprise and multinational companies which makes documenting standard operating procedures (SOPs) easy and efficient such as sharing procedures with a team.
SweetProcess offers features such as standard operating procedures documentation, designed to train new workers on established processes, displays all process tasks in a checklist format, deploy videos and images to help explain tasks, tracks all progress as a worker goes through a process, comes with a mobile device UI, identifies ways to streamline processes, file attachments, comments and collaboration, drafts and approvals, assign and track task, audit trail with excel export, word and pdf procedure export, two-factor authentication and email and phone support.
SweetProcess has an employee training software solution that utilizes standard operating procedures (SOP) documentation to establish daily processes for users so whenever the users need to train a new employee for a procedure, the system can interactively guide the new employee. SweetProcess also lets the users document tasks by outlining all pertinent steps and arranging them in a checklist so as the new worker goes through said process, the software will monitor all progress and check off tasks as they are completed.
SweetProcess enables users to add images or attach screenshot images and embed videos to give extra clarity to any step in the user's procedures just by drag and drop or copy and paste to help explain certain tasks. SweetProcess can help identify ways in which processes can be further refined. SweetProcess is accessible from any mobile device.
You may like to review : Top Standard Operating Procedures (SOP) Software and Top Open Source and Free BPM Tools