Review
SurePayroll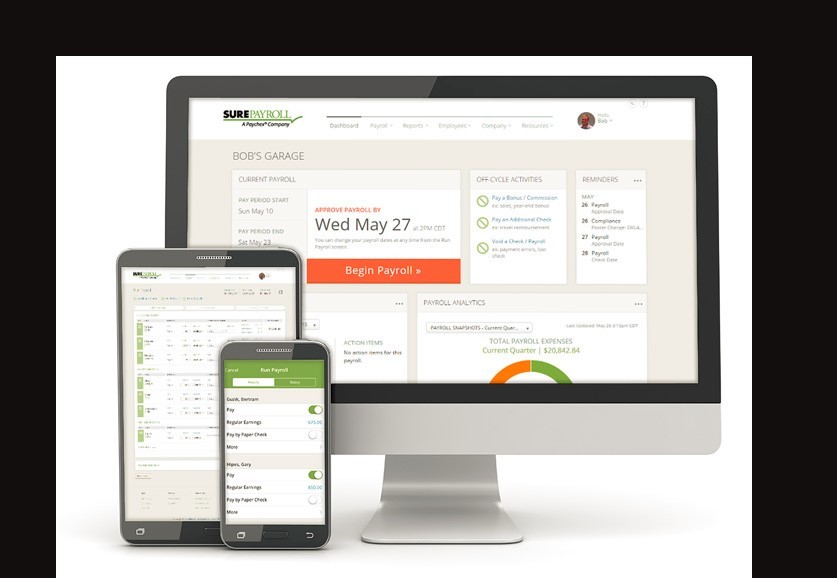 Overview
SurePayroll is a comprehensive online payroll solution for every business. On top of that, SurePayroll has also created a management platform in its payroll software called One-Click Payroll
• Accounting Integration
• Time Clock Integration
• Online reports
• SureAdvisor Federal & State Labor Law Compliance
• Alerts & Reminders
• Automatic payroll taxes
• Business and HR forms
• Mobile Payroll apps
• Interview checklists
Small (<50 employees), Medium (50 to 1000 Enterprise (>1001 employees)
What is best?
• Accounting Integration
• Time Clock Integration
• Online reports
• SureAdvisor Federal & State Labor Law Compliance
• Alerts & Reminders
• Automatic payroll taxes
What are the benefits?
• Easy product navigation
• Flexible
• Run online, in minutes, anytime on any device
• Top notch security
• Pay workers via direct deposit or print checks
SurePayroll is a comprehensive online payroll solution for every business. On top of that, SurePayroll has also created a management platform in its payroll software called One-Click Payroll, which simplifies all the processes related to payroll into just a few seconds without compromising accuracy and reliability, saving businesses countless hours that it will take to perform said tasks manually.
It is a perfect payroll solution for small businesses, startups and sole proprietors. The software comes with an interactive, customizable dashboard. Another highlight of the system is that its supports multiple payroll types and calculates and delivers payroll taxes.
With an extensive set of payroll-processing tools and unparalleled recordkeeping plus massive integrations with popular business software and systems, it is no wonder why many businesses choose SurePayroll to handle their payroll processes.
SurePayroll is built to streamline the payroll process with its awesome tools, excellent third-party integrations, and its ability to handle payroll taxes. It is a solid option for any business that is looking to get a software that will make payroll faster yet very accurate and reliable.
With SurePayroll, employees can easily check their payroll information, including paychecks, vacation leaves, pay stubs, and more. They can also do all these via their smartphones, tablets, and other mobile devices. The system also takes care of taxes by automating the processes while maintaining compliant with the company's payroll services.
Customer support is also laudable. Award winning Customer Care team makes small business payroll easy. The software fields knowledgeable and responsive support staff as well as an easy to access support center.
You may like to read: How to Select the Best Human Resource Software for Your Business and Free and Top Payroll Software: The Best of the Payroll Software for Small Business