StreamAnalytix As Streaming Analytics Platform for Hortonworks DataFlow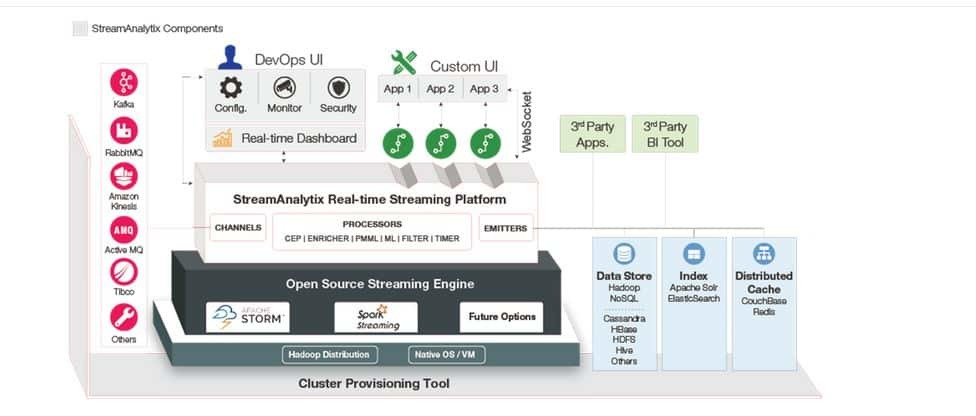 Impetus Technologies, StreamAnalytix has been selected by Hortonworks as a complementary solution to provide real-time streaming capabilities for the new version of Hortonworks DataFlow. HDF powered by Apache NiFi is an integrated platform to collect, conduct and curate real-time data, moving it from any source to any destination. StreamAnalytix is open-source based, enterprise-grade, multi-engine platform for rapid and easy development of real-time streaming analytics applications.
With HDF, StreamAnalytix accelerates streaming data applications with a visual designer interface to configure and deploy new workflows and a visual integrated development and application-monitoring environment to provide abstraction over multiple streaming engines.
StreamAnalytix's visual interface of analytics workflows makes it extremely easy to build analytics applications quickly using built-in operators and complex event processing (CEP) solutions over Apache Storm and Apache Spark Streaming more efficiently with little or no coding. Together, HDF and StreamAnalytix accelerate business value from big data by eliminating the complex and time-consuming manual processes and coding - reducing the effort from months to minutes.
"The combination of HDF and StreamAnalytix will create a new level of return for data-in-motion," said Anand Venugopal, head of product for StreamAnalytix at Impetus Technologies. "Together, these solutions will offer an unprecedented capability to leverage real-time data across a comprehensive range of industry use cases."
"Providing drag-and-drop capabilities for easily developing advanced real-time streaming analytics applications will allow customers to quickly realize a tremendous amount of value in leveraging streamed data," said Jamie Engesser, vice president and general manager of Emerging Products at Hortonworks. "As a long-time Hortonworks partner and early adopter of Apache Hadoop, Impetus is one of the pioneers in understanding the value of open-source based technologies."
StreamAnalytix, enables enterprises to analyze and respond to events in real-time at big data scale. It provides enterprises with the advantages of an open-source based, enterprise-grade platform for rapid and easy development of real-time streaming analytics applications. StreamAnalytix is designed to quickly build and deploy streaming analytics applications for any industry vertical, any data format and any use case.