Review
Strategy Map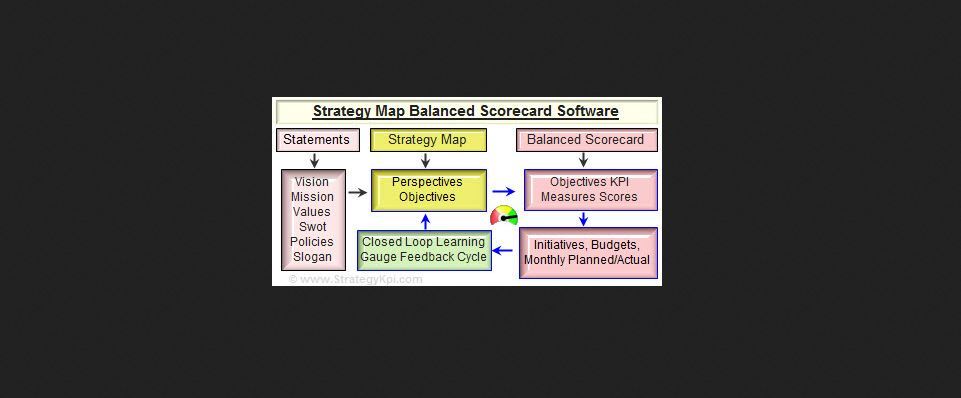 Overview
Strategy Map is dedicated as an aid to creating your own Strategic Picture and then aligning your Organizational Operations to the relevant components.
Balanced Scorecard Software
Software & License
Startup Module
Vision Mission
Strategy Map
Balanced Scorecards
Drill-Down Cross Refernce
Export to Grid
Export to chart
Small (<50 employees), Medium (50 to 1000 employees), Enterprise (>1001 employees)
Strategy map software is dedicated as an aid to creating organization's Strategic Picture and then aligning Organizational Operations to the relevant components. Strategy map enables users to view and edit all the primary Vision/Mission Statements. Strategy map allows users to display the company Logo inside the map to provide improved corporate identity.
Strategy Map contains Perspective Row Aligned flowchart with the ability to have up to 9 rows. Strategy map software provides on screen help on tips for creating a strategy map. Strategy Map software displays regions, departments and employees in a relational tree view. The Organizational tree can have Averaged Gauge values displayed in the tree against each item. The Balanced Scorecard data can be displayed in four possible layout configurations. These are One Grid, Two Grids, Three Grids and Tree View which provide the display variety needed.
The Balanced Scorecard grids use cell merging with column sorting. This provides a natural one-to-many relationship from left to right across the grid. Complete grid column filtering is available. Strategy map software allows users to change which grid columns are displayed. Extensive Graph Charting Facilities are provided in Strategy map software.
Three types of Grids are supported in Strategy map software 1.Objective Grid, 2. Initiatives Grid 3.monthly grid. The Objective Grid's job is to provide Strategic Alignment with the Strategy Map Objective by allocating personal responsibilities that are derived from these Objectives. Each Objectives Grid Row has multiple Initiatives. The Initiatives Grid is linked to the Objectives Grid row in a one-to-many relationship.
The purpose of Initiative grid is to provide multiple initiatives against each objective. The Monthly Financial Grid focus is on Planned and Actual allowing the budget to be completed and approved well ahead of time. As time passes and the actual months become valid the Actual/Planned values can be calculated and used to drive the Initiative and Objective Gauge system.
You may like to read: Free, Open Source and Top Balanced Scorecard Software and How to Select the Best Balanced Scorecard Software for Your Business