Review
Stimulsoft BI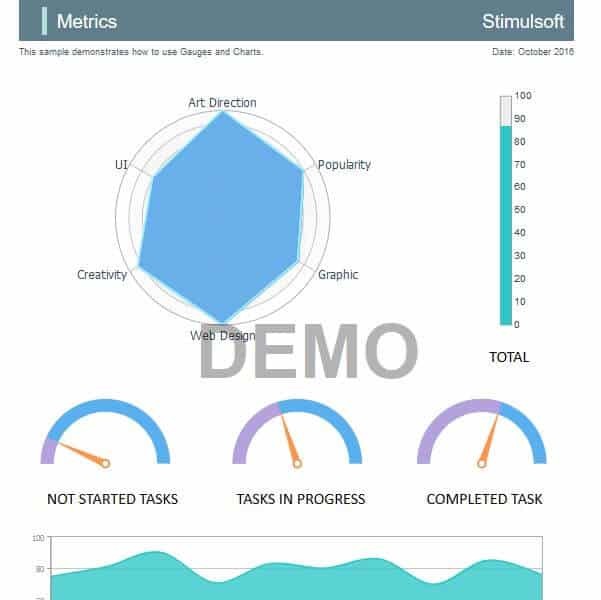 Overview
Stimulsoft Reports.Ultimate is a comprehensive solution for the .NET Framework platform, JavaScript, PHP, Java, and Flex to render reports.
Business Intelligence Software
•Rich Export Options
•JavaScript, HTML5
•Desktop, Mobile Support
•Engine, Viewer, Designer
•HTML5 Designer
•HTML5 Viewer
•Pure Java Code
•Reports for PHP
•JS Report Engine
•Stimulsoft Reports.Ultimate from 1.599,95 $
•Stimulsoft Reports.Flex From 699, 95 $
•Stimulsoft Reports.Server From 1999, 95 $
Small (<50 employees), Medium (50 to 1000 Enterprise (>1001 employees)
https://www.stimulsoft.com
What is best?
•Designer in Web Browser
•Rich Export Options
•JavaScript, HTML5
•Desktop, Mobile Support
•Engine, Viewer, Designer
•HTML5 Designer
•HTML5 Viewer
What are the benefits?
• Planning executing of specific actions at certain time
• Server resources can be shared depending on the access level set.
• Has the built-in report designer and viewer
• Create, edit, export and print reports.
• Create groups of users
• Assign groups to certain rights within the workspace.
Stimulsoft is a developer of software that helps businesses generate and share reports in the cloud. Stimulsoft is a software manufacture in the field of Business Intelligence, data analysis and processing – reporting tools for various platforms, keeping compatibility between products. Stimulsoft Reports.Ultimate is a comprehensive solution for the .NET Framework platform, JavaScript, Java, PHP, and Flex to render reports.
The product includes a complete set of tools to build reports under WinForms, ASP.NET, WPF, Silverlight, JavaScript etc environments. Different report viewers for displaying reports are available for this product. The product has powerful system of exporting reports, which supports many different types of formats.
Reporting Tools for .NET Framework. This is solution which includes reporting tools for the .NET Framework platform. Reporting tools for WinForms, WPF, ASP.NET, MVC, Silverlight are available for immediate use in users projects. The products include report engines, designers and viewers. It contains following reporting tools: Stimulsoft Reports.Net, Stimulsoft Reports.Web, Stimulsoft Reports.Wpf, Stimulsoft Reports.Silverlight and Stimulsoft Reports.WinRT. Reporting Tools for JavaScript, Java, PHP, Flex. This set of tools contains all components needed for creating reports under JavaScript, Flex, PHP, and Java.
The products have a complete set of components for designing, exporting, rendering, viewing and printing reports. Users are also can see reports directly in the web browsers. It includes the following products: Stimulsoft Reports.JS., Stimulsoft Reports.Java, Stimulsoft Reports.PHP and Stimulsoft Reports.Flex.
Stimulsoft Reports.Server is a complete Business Intelligence, client-server solution that provides reporting and analytics. The front end provides facility to visualize data. The back end provides data processing and storing. Stimulsoft Reports.Server can work as a standalone report server as well as an embeddable solution. The software provides all features appropriate for all reporting servers – creating, editing and storing reports,scheduling and delivering them to the client.
You may like to read: Free, Open Source and Top Reporting Software and How to Select the Best Business Intelligence Software for Your Business