Spredfast Promotions Customizable social contest builder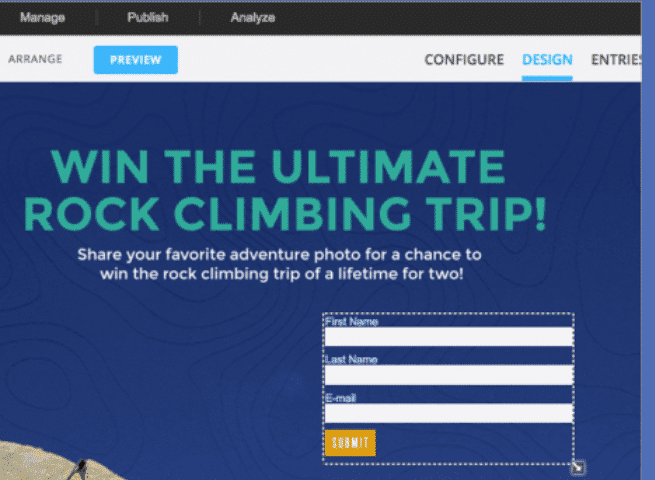 Spredfast Promotions, is a custom contest builder that gathers consumer-shared data, giving brands a stronger understanding of their customers. Marketers want to build loyalty with their customers, but in order to do so, they must know who their customers are and what their customers need. In a recent study from Experian, researchers found that 64 percent of U.S. companies with loyalty programs say data collection needs to be improved and 53 percent of them want more personalization. Promotions enables marketers to collect customer data via contests, sweepstakes, sign-up forms, and more. With each entry, marketers receive valuable customer insights ranging from product usage and preferences to birthdays and email addresses. When armed with the right data, marketers can make smarter decisions for their brand.
Promotions creates engaging opportunities for customers to win prizes, while it is also a winning experience for marketers who want to learn more about their customers' purchase preferences.
The Spredfast Promotions interface was developed with the end-user in mind, meaning that marketers are equipped to create custom apps and pages without any coding experience. The design component is equally accessible, allowing Spredfast customers to use templates, enter CSS, or design freeform to produce a contest that fits the brand's visual identity. Promotions is a valuable addition to that toolset, furthering brands' ability to deliver the right content, in the right place, at the right time.
Spredfast's smart social software enables companies to build lasting relationships with today's digitally connected consumer. Brand and media companies use the Spredfast Social Software Platform to manage, integrate and amplify social content across any digital touch point in real time.
You may also like to read, What is Text Analytics ? , Top Social Media Management and Analytics Software , Top Free Social Media Management and Analytics Software , Top Text Analysis, Text Mining, Text Analytics Software , Top Free Text Analysis, Text Mining, Text Analytics Software, Top Qualitative Data Analysis Software , Top Free Qualitative Data Analysis Software ,Top Dashboard Software ,and Open Source and Free Business Intelligence Solutions .