Review
Spigit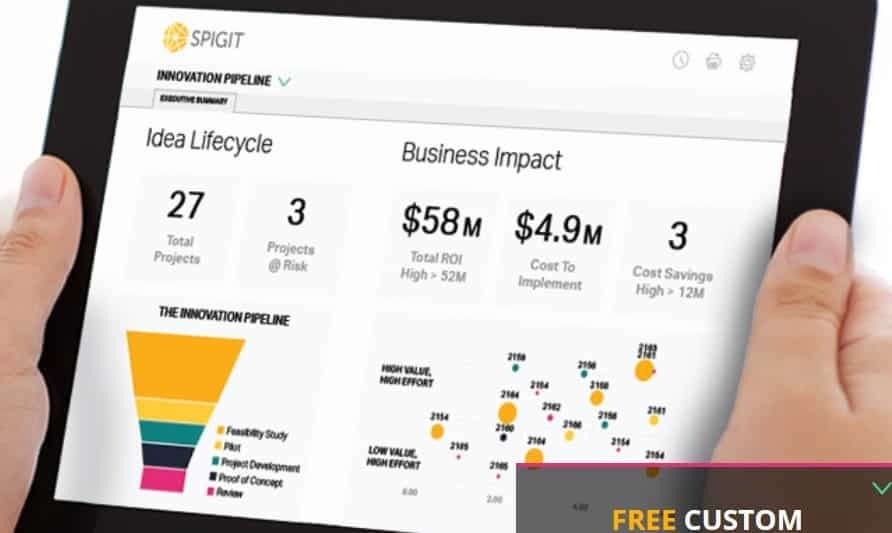 Overview
Spigit can identify the best ideas, predict the business impact, and enable both sustained as well as breakthrough innovation with crowds of any size. Designed for global companies, Spigit has enterprise-grade security and language support.
•Automation slashes effort
•Patented Crowd Science
•Enterprise scale and security
Small (<50 employees), Medium (50 to 1000 Enterprise (>1000 employees)
What is best?
•Automation slashes effort
•Patented Crowd Science
•Enterprise scale and security
What are the benefits?
•Easy to start, easy to scale
•Maximize participation in ideation
•Ai-powered analytics
Spigit innovation management software helps you identify new products and markets, improve customer experience, streamline processes, and increase employee engagement.
Spigit has several automation features that allow automatic generation of ideas, with no need for manual reviews. This feature is committed to ensure ease in the management of the innovation software. Patented Crowd Science feature of Spigit employs data science and algorithms. It helps the crowd select, predict and forward the best ideas. It prevents the herd-behavior.
Enterprise scale and security feature is designed to ensure scalability, mobility and security that is required in today's enterprise environment. Spigit boasts an idea market that allows users to trade idea shares.
Virtual currency earning is another important feature of Spigit. It has features that engage in the generation of topic ideas. Customizable leadership dashboards displaying top innovators and ideas can also be created. Enhanced engagement Personal Innovation Hub allows an enhanced analytical approach towards the data management.
Analytical and visualization features allow deep insight into the status of an innovation program. Secure dashboards help leadership understand innovation initiatives. They also help create, customize, and share secure information.
Online dashboards feature the display of real-time status updates. Human resources and marketing department features leads that can check on employee engagement quickly through the dashboard. Idea Management Software featured by Spigit helps businesses discover new ideas. It analysis ideas from every internal stakeholder and provides them with the correct platform.
It also employs advanced analytics and algorithms. Crowdsourcing is another powerful feature of Spigit that helps turn a crowd into a powerful machine. This feature provides the actionable ideas and solutions to crisis situations.
You may like to review: Top Idea & Innovation Management Software