Smart Analytics with TIBCO Spotfire 7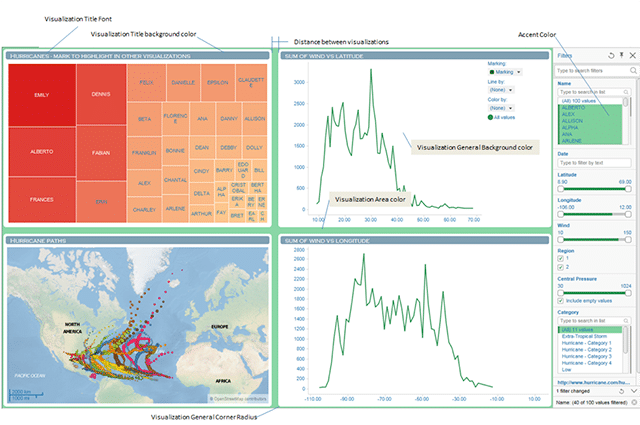 Smart Analytics with TIBCO Spotfire 7 : TIBCO Spotfire is a powerful industry leading analytics and data visualization platform which is designed for ease of use, and for empowering users of all skill levels to gain insights faster and easier. Spotfire leverages built-in "smart" analytics, which let novice users to instantly start analyzing data with Recommendations : a new and easy way to create visualizations and dashboards. Multiple streamlined features have been added in TIBCO Spotfire 7 to speed up the data exploration experience, and users now have the flexibility to customize the look and feel of their dashboards to match applications or style guidelines.
Spotfire portofolio inlcudes Spotfire Desktop, Spotfire Cloud and Spotfire Platform. Spotfire Desktop provides analytics for the Individual to Visualize and explore data on your PC. Spotfire Cloud offers analytics software as a service and Spotfire Platform provides analytics for the urganization. TIBCO Software is a global leader in infrastructure and business intelligence software.
Key features of Spotfire 7 includes automated guidance, beautiful design and faster data exploration. Spotfire 7 enables a fast and intuitive jump start for the data analysis with Recommendations, an intelligent wizard. This guides the selection of best-practice analytics, empowering experts and non experts alike. Beginners benefit from Recommendations instant suggestions of best practice visualizations and data experts appreciate the speed with which they can create an entire dashboard of interconnected visualizations in just a few seconds. A new Data Panel in Spotfire 7 streamlines how to find, organize and filter the data in analytics workspace. New, custom styling features lets to create beautiful dashboards that suit the style and design requirements of the user. New style options for visualizations enable the users to adjust the look and feel of a Spotfire workspace depending on the audience, type of data consumed, and more. Streamlined user interface elements are designed to facilitate fast, fluid data discovery.
The other new features in Spotfire 7, includes In-memory cube data analytics, new calculated columns and groups when doing in-database analysis, more script language functions, support for curve / contour functions, non-linear optimization, and additional R packages, TERR tools which is available directly from Spotfire, accessible from the Tools menu, new data connectors: for Amazon Redshift and OData and new API enhancements.
"Our goal with Spotfire 7 is to make analytics software easier to use and to drive insights for everyday users faster than ever before," said Brian Gentile, senior vice president and general manager, TIBCO Analytics. "Spotfire 7 puts best practices at your fingertips, helping everybody who needs to work with data to be more productive and to more quickly uncover the answers hidden within. Our Spotfire analytics platform now addresses all the needs of an organization, ranging from simple data exploration to the most advanced analytics, all on the same platform. Our platform-focused approach and focus on power with ease-of-use takes analytics out of the tool and puts it into the conversation, enabling business users and data scientists to become even more capable."