Review
Site5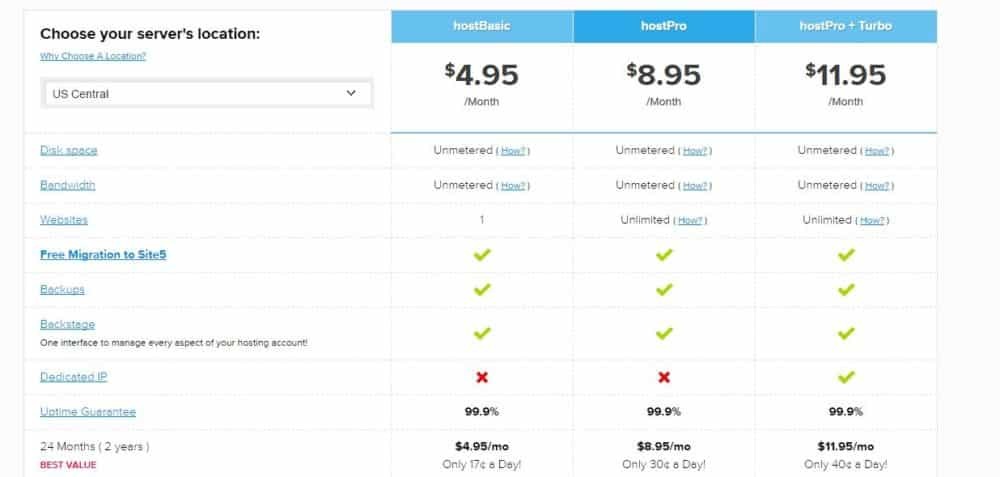 Overview
Site5 provides you with unmetered disk space for your website hosting needs. The way we can give you generous amounts of disk space is easily explained. The average cost of hard drives, keep getting lower and lower.
•Unlimited cPanel Accounts
•Unlimited Websites
•FREE Migration
•FREE Dedicated IP
•24/7 Live Chat Support
•hostBasic $4.95 /MO
•hostPro+Turbo $11.95 /MO
•hostPro $8.95 /MO
Small (<50 employees), Medium (50 to 1000 Enterprise (>1001 employees)
What is best?
•Unlimited cPanel Accounts
•Unlimited Websites
•FREE Migration
•FREE Dedicated IP
Site5 provides its users with unmetered disk space for its website hosting needs and ensures that the users have enough storage space for their website files. On the other hand, Site5's unmetered bandwidth offering allows the company to never worry about exceeding their bandwidth limitations.
From one centralized location, Site5's Backstage will provide its users access to all of their account information they have with Site5. Quickly review and edit all account information without the need of jumping from website to website.
On the front page, users will have no problem finding their domain registration history, billing activity, account status and more. It is the goal of Site5 to give its customers one place to bookmark to reach every account detail they need.Site5 guarantees that their servers will be online all the time.
In the event that the users experience more than downtime than Site5 guarantee allows--which almost never happens--they will happily give their customers service credits. Site5 provides its customers with all the information they need when it comes to both novice and expert topics in developing their website.
The wiki is a searchable database of some of the most common questions and support issues. The community forums give its users a place to ask other clients and staff member questions in public, to get the quickest help possible. Site5 also help companies with moving their website files, databases, emails and more from their old web hosting account to their new web hosting account at Site5.