Sisense Makes Business Intelligence Accessible to Business Users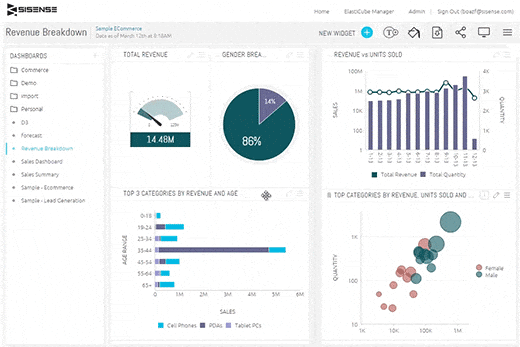 Sisense, is transforming business PCs into powerful analytic tools for the modern workforce. Sisense's proprietary In-Chip analytics optimizes modern CPUs, enabling Sisense to magnify each advance made by Intel. This unique capability empowers business users and data analysts to easily perform analysis that would otherwise require significant data science resources and IT investment. When tested with Intel's newly-released 6th Generation Intel Core vPro processor, Sisense delivered a 300 percent improvement in speed over older chips.
"Our unique In-Chip approach allows every employee with a PC to participate in the Big Data revolution," said Sisense CEO Amir Orad. "With the amazing processing power of the 6th Generation Intel Core vPro, everyday business users can now tackle the same volume and complexity of data as the world's leading data scientists, to uncover business insights with ease and agility."
According to a recent Gartner survey of over 1,000 US-based CIOs, the difficulty in analyzing and visualizing Big Data remains the leading barrier for Enterprises. In order to overcome this challenge, enterprises large and small will need to empower everyday employees to perform analysis of large and disparate data sets – the only way to succeed in this effort is with the help of leading-edge, yet accessible processing solutions. This is exactly what Sisense is working to deliver by utilizing Intel technology. The 6th Generation Intel Core vPro processor works hand-in-hand with Sisense technology to dramatically increase the speed of analytic processing, enabling business users to handle large and disparate data sets and keep pace with the evolving analytics landscape – without relying on IT organizations.
"Intel is committed to delivering new capabilities in our silicon to unleash breakthrough experiences for today's workforce," said Chad Constant, director of Business Client Marketing at Intel Corporation. "The ability to efficiently deliver analytics of complex data via 6th Generation Core vPro based devices and Sisense technology, raises the bar on what business users are able to accomplish. As the workplace transforms, this will help make it possible to analyze and visualize complex data across every level of an organization."
Sisense is driving the global transformation toward data self-service, growing revenues by over 100 percent for five consecutive years and delivering consecutive quarters of greater than 100 percent net renewal from existing customers. The company's end-to-end business intelligence platform was recently positioned in Gartner's 2016 "Magic Quadrant for Business Intelligence and Analytics Platforms," and has received various accolades for its industry-leading ease of use, business benefit, and low total cost of ownership. The company serves more than a thousand direct and indirect clients in over 50 countries, including Motorola, Skullcandy and eBay.