Sisense Advanced Analytics with R integration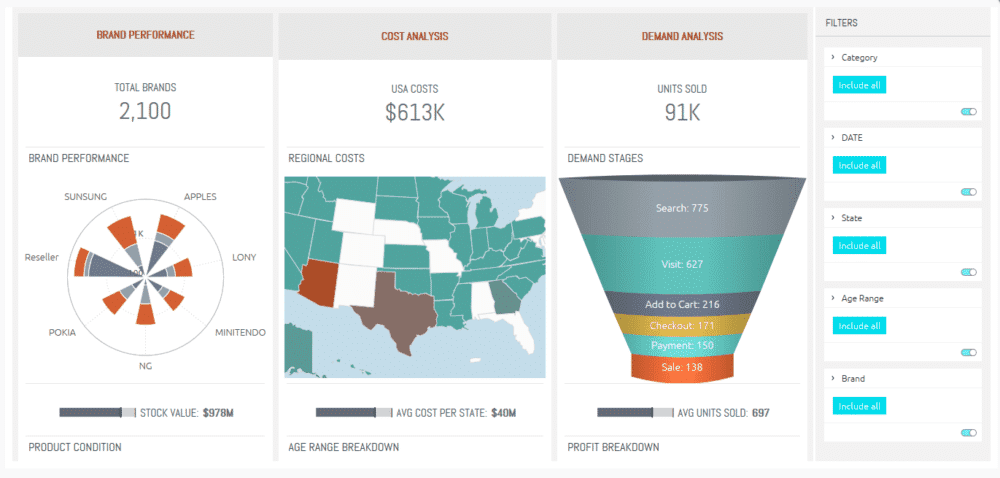 Sisense Advanced Analytics with R integration : Sisense, new version business analytics software solution significantly expands the advanced analytics capabilities, as well as furthers the platform's ability to integrate across the business analytics ecosystem. Sisense's expertise in complex data includes both large data sets and data derived from multiple, disparate sources. Adding these new features on top of Sisense's proven ability to deploy Business Intelligence solutions while eliminating data preparation efforts typically required from an IT organization, expands the efficacy of Sisense's business analytics solution for large, disparate data sets.
"Sisense version 6 is a strategic milestone for us, as it delivers the next stage of innovation in data analytics," said CEO Amir Orad. "Data is only meaningful to companies when it can be quickly and easily analyzed to inform strategic business decisions. That's what we bring to the market for our customers. We give businesses the power and independence to analyze and visualize large, disparate data sets, without cumbersome data preparation, large operational budgets or specialized IT skills. We are seeing a tremendous opportunity to disrupt the market with this approach, and our 100 percent year over year growth is a testament to that."
Sisense version 6 leverages In-ChipTM analytics to dramatically improve business users' access to advanced analytics on low-cost, commodity machines without the need for special data warehouse tools or dedicated IT staff. One-click formulas offer the most popular statistical functions, such as correlation, covariance and various distributions, directly from Sisense dashboards. In-ChipTM technology processes data 100X faster, thereby eliminating much of the data preparation and denormalization work typically associated with business analytics. There is no need to remodel data schemas or rely on aggregated values. With Sisense's latest technology, a top global e-commerce company saw significant improvements in processing correlation calculations on data sets over one billion rows, all-the-while, managed by a business user, without dedicated IT resources.
Constantinos Mavrommatis, a Market Analyst at RetailZoom, said: "Adding advanced and predictive analytics enhances Sisense's value to our organization. Leveraging the agility we already get from Sisense to operate quickly without the need for IT involvement, Sisense version 6 takes our business analytics program to another level – not just letting us see historical results, but enabling us to ask forward-looking questions to optimize our business execution. This is a real step forward in continuing to simplify business analytics by reducing our reliance on scarce, specialized resources."
Furthering its mission to simplify complex business analytics, Sisense has built a distinctive integration to R, the popular, open source language for statistical computing. Sisense excels at mashing up multiple data sets and easily making this data available for analysis. By utilizing a combination of Sisense and R, analysts are able to prepare and visualize data results in a fraction of the time that it would take to perform on R alone or with other visualization tools. This integration opens access to R's robust set of statistical tools and predictive models while leveraging Sisense's market-leading capabilities in complex data analysis and visualization.
"The R integration in Sisense is the perfect mix of complex analytics and simple-to-use visualizations" said James Levine, Senior Business Strategist at Act-On Software. "Sisense provides us the tool to mash up 13 unique data sets. By being able to prep the data with Sisense, execute analysis with R, and then visualize the results with Sisense, our predictive analysis will be much easier to execute and overall more consumable for our business users. We expect to see great insight using the R integration."
Sisense version 6.0 also includes an Open Database Connectivity (ODBC) layer that leverages data from Sisense with third-party tools such as Excel, Tableau or Crystal Reports. By establishing this connection between its software and the business analytics eco-system, Sisense enables users to take full advantage of its distinctive data analysis and preparation technology and ultra-fast data processing. The ODBC connection to front-end tools empowers users to mash-up data from disparate sources using Sisense, but still consume that data in other familiar spreadsheets and tools. It also greatly simplifies legacy reporting solutions that rely on archaic data warehouses that are hard to maintain. With Sisense version 6, these old, fragile reporting connections can be replaced with flexible, nimble data analytics that is simple to update and maintain without specialized resources, saving the customer both time and money.