Review
SimilarWeb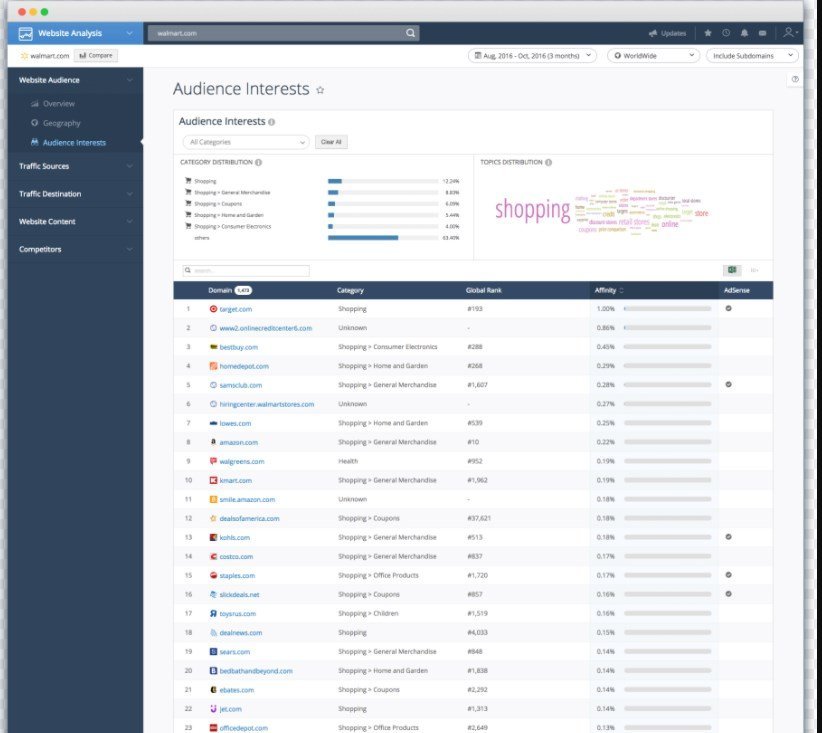 Overview
SimilarWeb's market intelligence solutions provide customers with insights to help them understand, track and grow their digital market share.
• Diverse Sources
• Size Matters
• Data Treatment
• From Data to Insights
Small (<50 employees), Medium (50 to 1000 Enterprise (>1001 employees)
What is best?
• Diverse Sources
• Size Matters
• Data Treatment
• From Data to Insights
SimilarWeb gives users global multi-device market intelligence to understand, track and grow the digital market share. It empowers users with the insights users need to win the market.
SimilarWeb doesn't rely on any single channel for data collection. It works with a wide variety of sources to create the most accurate and reliable picture of the digital world. All of this data is fed into SimilarWeb's data processing servers where it turns billions of daily data points into insightful information.
SimilarWeb's data comes from 4 main sources: A panel of monitored devices, currently the largest in the industry; Local internet service providers (ISPs) located in many different countries; Web crawlers that scan every public website to create a highly accurate map of the digital world; and Hundreds of thousands of direct measurement sources from websites and apps that are connected to it directly. This last source of data helps to constantly improve the learning set, fine tune algorithms and reach accurate estimations about traffic stats for ALL websites and mobile apps.
SimilarWeb spent several years building the data collection infrastructure and refining the data collection processes before launching. SimilarWeb is confident that it offers the most accurate and unbiased data covering the digital world. When it comes to data, the bigger the panel is, the more statistically accurate the insights will be.
SimilarWeb has the largest panel in the industry. SimilarWeb implements big data technologies on data center consisting of dozens of high-end servers that analyze tens of terabytes of data every week and more than a billion data points every single day. The volume of data managed and processed makes the insights highly accurate and reliable.