Review
SignNow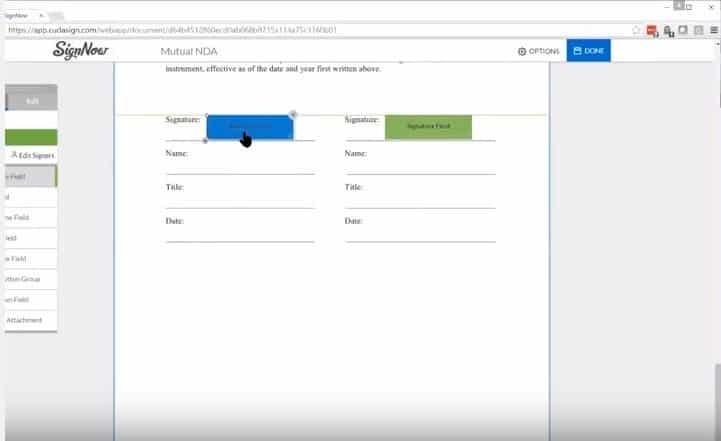 Overview
SignNow is an e-signature platform used to electronically sign, send, and manage documents on any device.
· Easy to use templates
· Create SignNow teams for individual departments within the business
· Track the audit trail
· Signing and getting signatures
· set up a singing order
· Can be used on multiple systems and programmes.
Has a free trial. Starting at $5 per month. Contact for more details.
Small (<50 employees), Medium (50 to 1000 Enterprise (>1001 employees)
SignNow is an affordable, award-winning e-signature platform. SignNow offers the security, customization and integration features needed for enterprise-wide e-signature deployments. Enterprise users rank SignNow the #1 enterprise software with an average satisfaction score of 9.56 out of 10.
SignNow workflows are highly customizable via our simple user interface and custom branding. For more advanced customization, a rich API library gives you control over every SignNow feature so you can fully integrate SignNow into your in-house applications. It also includes ready-made integrations with business applications including Salesforce, NetSuite, Egnyte, Office 365, Microsoft Dynamics, Microsoft SharePoint, Box, G Suite, Google Drive and more.
SignNow is set up in just three steps. First, the user must upload any document and mark who needs to sign and where using a simple drag-and-drop interface. The signers then receive an email link and can sign from their computer, tablet or cell phone. It's easier to use than paper.
Lastly, SignNow routes documents to the appropriate people, ensures all signatures are collected and notifies you when the document is complete. This is a simple step by step process that makes it easy for the user and the recipient. SignNow also has easy to use templates that will save everyone important time. The user can also track the entire audit trail in order to make sure that the process is secure and safe.
You can use SignNow on the go with their iOS and Android applications. SignNow has been the top ranked eSignature app in the Apple App store for 3 years!