Review
SignBox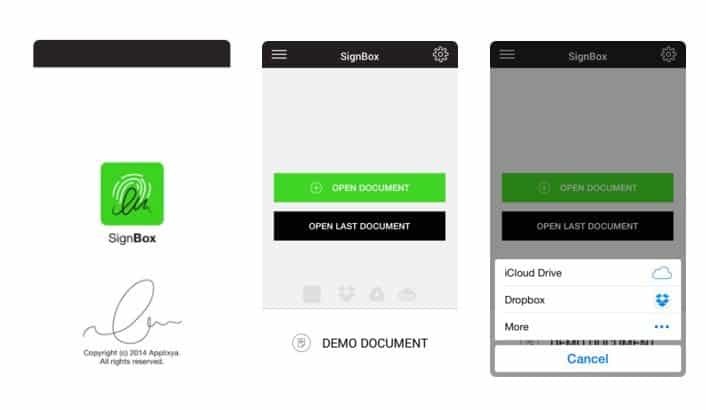 Overview
Signbox is an application available for mobile devices, that uses your TouchID or passcode to ink your protected signature on your PDF documents within your iOS device with NO cloud access, No registration and NO account
• Secured Signature
• Protect user Signature.
• Convenient Extension
• Pixel perfect Signature
• All the tools. users need
• No Registration Required
Small (<50 employees), Medium (50 to 1000 Enterprise (>1001 employees)
SignBox is designed and built with privacy and security in mind. With signbox, users can associate name, add date, type text or even scribble directives alongside user signature; sign using stored signature, user name or just securely scribble user signature every time; conveniently access user cloud-stored documents; open documents using cloud storage extensions of user's favorite cloud apps; share documents, email, print, save to cloud storage, or simply share to any of user's favorite apps and run any other extension.
SignBox can only be accessed by TouchID or passcode. It is not stored on any cloud. Only user's own TouchID or passcode can unlock user signature. Never give signatures away to cloud servers again. User signature remains in the device and will not be editable or copy-able by recipients.
Users can add Open Passwords and prevent editing, copying or printing after signing. Sign with SignBox Extension any PDF document from within any of user's favorite Apps. All conveniently within user's device. Specifically, the actual signing process totally happens within user's device without it leaving the memory of the device and without communicating with any server.
User signature will never look better because it is smoothened and inked with vector strokes and presented within documents to its finest quality; on whatever scale users may choose to see it at. Conveniently add user initials, print user name, add date, or even scribble user directives alongside user signature. Furthermore, users don't need to setup an account. No registration. No Cloud account. No Subscription.