Review
Signable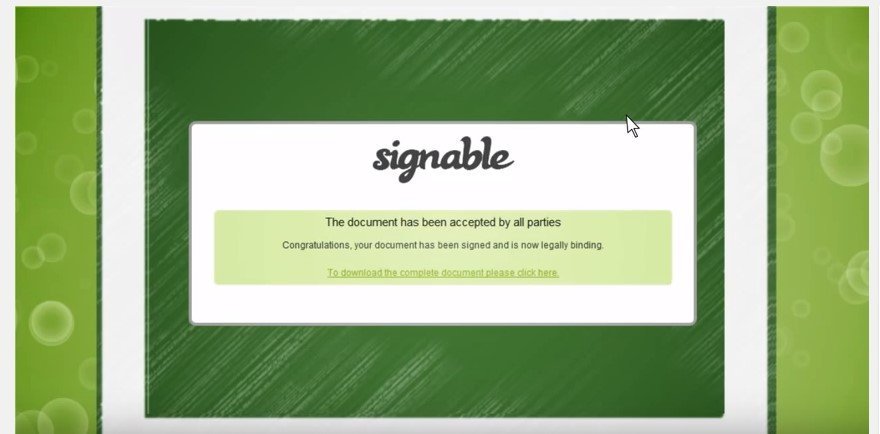 Overview
Signable is an eSignature software for business that enable companies to get documents signed legally, quickly & securely online with electronic signatures.
• Online Document Signing For Business
• Mac + PC friendly
• Truly global document signing
• Truly global document signing
• Online documents delivered instantly
• Save money and the environment
• Instantly see your document status
• Greatly increase your sign-rate
• Save a bundle of money with electronic signatures
Free 14 day trial available; Pay As You Go;
Small Business subscription for £19 a month;
Medium Business subscription for £39 a month;
Large Business subscription for £89 a month; corporate subscription for £149 a month
Small (<50 employees), Medium (50 to 1000 Enterprise (>1001 employees)
Signable gets users' documents signed fast. Instead of emailing or posting the document to the signer, send it out electronically via Signable and literally get it signed in a matter of minutes for a fraction of the cost. By using electronic signatures signers can sign online, on any device, quickly and easily whilst Signable makes sure the document is legally binding and secure.
To send an electronic signature document just upload the document from within Signable account, fill in who is going to sign it, specify on the document where users want them to sign and Signable will do the rest. Signable will send the signer an email with a unique link where they can click and sign the document.
No registration is needed by the signer and they can sign on any device. If users need to send a document to more than one person, there is no problem! Users just need to add multiple signers when sending out the document.
Signable adheres to (and exceeds) all of the latest electronic signature laws within the UK and the EU, most notably eIDAS, which relates to electronic identification and verification across EU member states. Every single document, or contract, sent through Signable adheres to these regulations.
With Signable it takes seconds to send a documents straight to a clients' inbox. Also, keeping track of users online documents is a breeze. Users can instantly see which clients have outstanding documents to sign and which documents have accepted or rejected and their date processed.