Review
Sertifi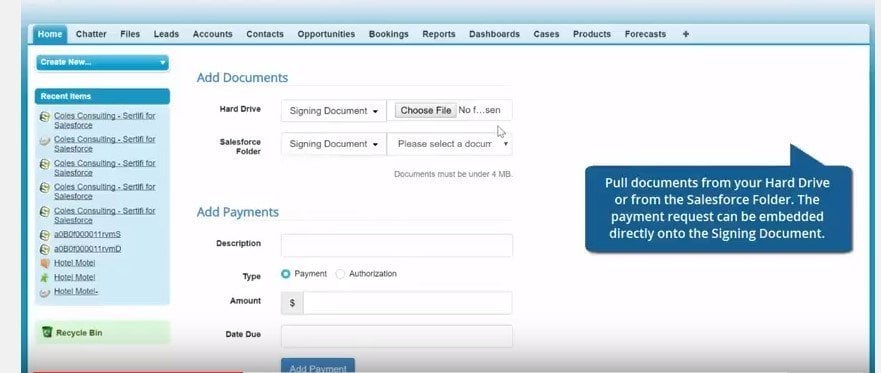 Overview
Sertifi is a Chicago-based enterprise that aims to provide businesses with an electronic signature solution. Sertifi offers the fast and most secure way to close business, from eSignatures to online payment capture.
· Secure and Legal
· Company Branding
· Simple Sending Process
· Customizable Workflows
· Multiple/Parallel Signers
· Custom Routing for Signing
· Reminders and Notifications
· Expiration Dates
· Advanced User Authentication
· Mobility and In-Person Signing
· Track, Manage & Receive Real Time Updates
· Advanced Reporting & Analytics
· Secure Document Storage (extended storage available)
Small (<50 employees), Medium (50 to 1000 Enterprise (>1001 employees)
Sertifi's interface is known for being the most straightforward and easy-to-use within the industry today. Use Sertifi's solution to send, sign, and manage documents 100% digitally. Easily upload agreements, send to others for eSignature, and track and manage along the way!
Sertifi is a Chicago-based enterprise that aims to provide businesses with an electronic signature solution that can help them close more deals and make more sales. Automation capabilities speed up business workflows, even the most complex processes that involve multiple signatories in parallel and/or sequential workflows, collaborations with multiple parties, and customer payments among others.
Sertifi has many advantages such as automated basic and complicated workflows for faster business processes. It also lets the user collaborate with customers and reach agreements faster by eliminating cumbersome back and forth emailing. Sertifi has a simple and convenient signing process and the user can track and manage all deal activities as these unfold. It is also possible to set up notifiers to update the user at every step. Reach agreements faster by offering the ability to collaborate with customers.
Sertifi's unique collaboration feature, Sertifi Deal. Stream, allows senders and customers to post comments or questions within a central area. This area is also where documents awaiting eSignature and payment requests live. It brings all components together so the user can close swiftly.
Think of it as the main closing hub. Sertifi has transformed the way customers pay for products and services with Sertifi Payment Bridge. This feature allows customers to submit payments online within a secure and PCI-compliant process. Make waiting days or even weeks to receive payments a thing of the past. And, never again worry about storing sensitive payment data. Use Sertifi to help benefit business.