Review
SearchBlox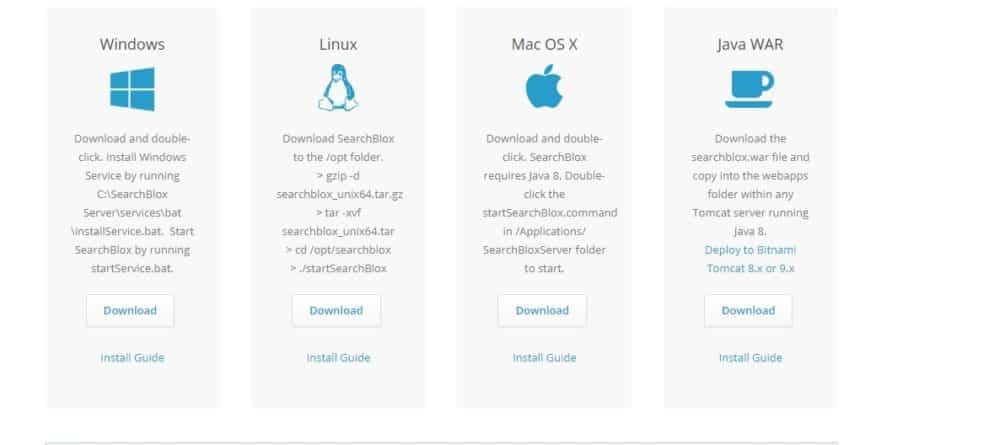 Overview
SearchBlox analyze opinions and emotions associated with your products, services and people. Visualize trends for customer satisfaction and people surveys.
Web Search Engine Software
•UNLIMITED Files/URLS
•UNLIMITED Collections
•Advanced Security Integration
•Product Upgrades
•Standard Support Included
•Enterprise Search Edition - $5,000/year
•Text Analytics Edition - $12,500/year
Small (<50 employees), Medium (50 to 1000 Enterprise (>1001 employees)
What is best?
•Advanced Security Integration
•Product Upgrades
•Standard Support Included
SearchBlox is a simple, flexible and affordable Enterprise Search, Sentiment Analysis and Text Analytics solution. Users can create a collection to crawl their website, add a search box to the website and customize the search results pages to match the user's brand. Integrate multiple websites with a single search box and provide federated search to find the right information.
Setting up a collection also allows users to search their product catalog available within a database or a CSV/Excel file. Filter on brand names, size, color, pricing and availability, or custom fields. SearchBlox provides the simplest API to integrate with the user's application or website. Create a collection and index URLs or custom data as well as consolidate search results through SearchBlox's XML or JSON output.
Users of SearchBlox can create a faceted search of CRM data within Salesforce, as well as enable the data to be searchable externally. Its Salesforce app lets users index all their CRM data and provides fast, faceted search.
SearchBlox also features Sentiment Analysis which is a useful tool to find out not just what the customers want based on their actions online or their search history, but by processing their words and looking for their opinion on a particular subject or topic. It provides direct access to text data from 60+ content sources for in-stream and real-time processing, ready-to-see filtered search and visualization, see real-time trends within each sentiment of positive, negative and neutral and complete web-based setup and administration for data scientists and business managers.