Review
Seal's Contract Discovery software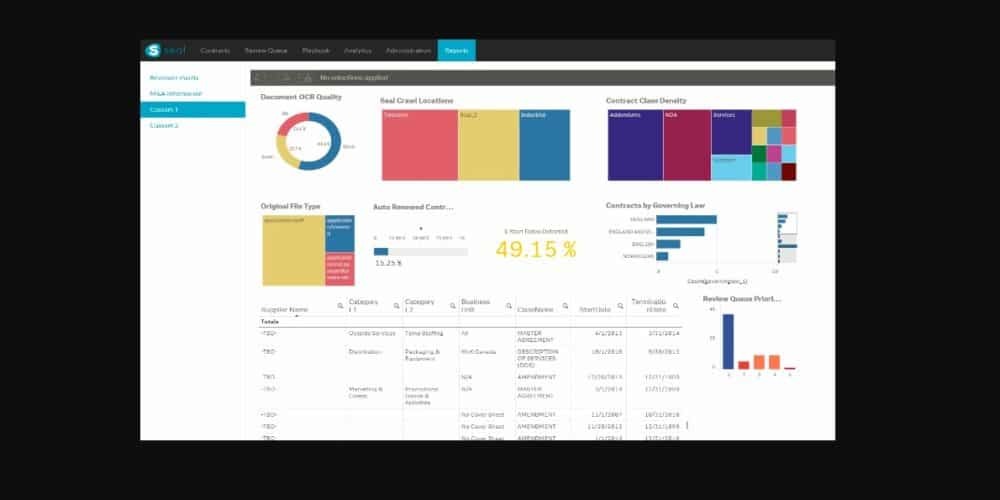 Overview
Seal Software is a comprehensive platform which includes technologies for contract discovery and contract analytics. These capabilities are provided as an integrated solution so Seal users have control of all their contracts and have in-depth knowledge of all they contain.
Contract Lifecycle Management Software
Comprehensive Platform
Combination of Various Technologies
Contract Discovery
Contract Analysis
Data Visualization
Contact for pricing information.
Small (<50 employees), Medium (50 to 1000 Enterprise (>1001 employees)
Seal's Contract Discovery software
Seal's Contract Discovery Software has just unveiled a new version of its leading contract discovery and analytics solution called Version 5.0. The new version introduces two major capabilities, the first called "Analyze This Now" (ATN) and the second is User Driven Machine Learning (UDML). Both are designed to empower business users, putting more of the capabilities of Seal in their hands, and removing work from Legal Ops or other administrative resources. Version 5 will reduce the costs, and speed the time for many contract management and analysis processes.
Seal's Contract Discovery Software's "Analyze This Now" pulls existing contracts directly into Microsoft Word, first converting all documents formats – including PDF and TIFF images – into Word format. It then analyzes the text, providing users with color-coded shading (red, yellow, green) for clear visibility into the status of clauses and provisions. Seal shows users if text matches approved legal language or if it is non-standard, and the degree of variance. With Version 5, business users can review text, update terms, change metrics, and create new versions of contracts right from their familiar Word interface, engaging Legal Ops professionals for exceptions or final approval, saving time and money.
On the other hand, User Driven Machine Learning (UDML) allows business users to train the system's machine learning functions – quickly, and in a way specifically designed for them. With UDML, business users provide Seal positive and negative examples of the information they are looking for and Seal creates the optimal set of algorithms and models, applied in its "deep learning" framework, to optimize that specific data extraction process. Seal Contract Discovery Software has made all this possible by abstracting away the sophistication and complexity of its ML models, effectively putting the power of Seal in the hands of the business users, resulting in increased speed and accuracy, and shorter time-to-value for the system.
You may like to read: Top Contract Lifecycle Management Software, Top Free Contract Management Software and How to Select the Best Contract Lifecycle Management Software for Your Business