SAS Visual Analytics and SAS Visual Statistics integrate for self service data exploration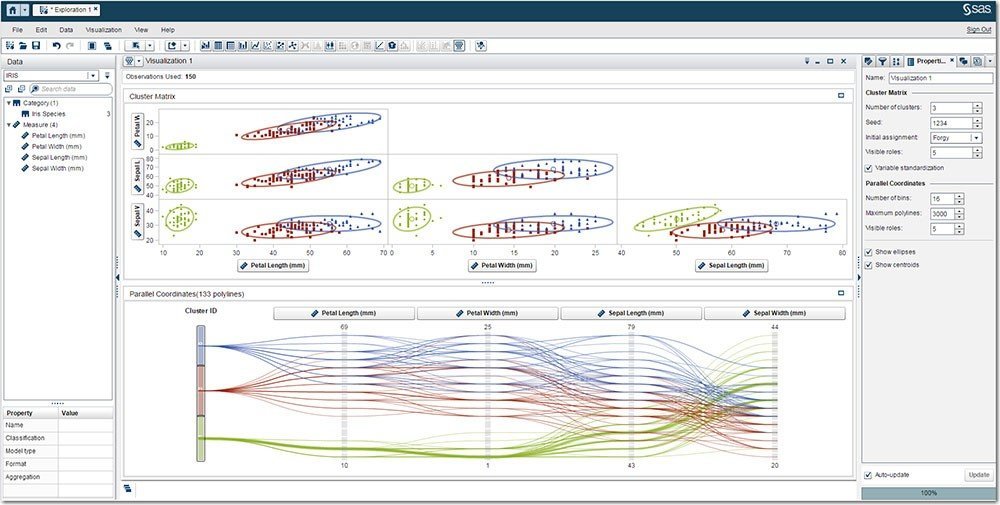 SAS Visual Analytics and SAS Visual Statistics integrate for self service data exploration: SAS is integrating its popular visual data exploration software, SAS Visual Analytics, with SAS Visual Statistics, a point-and-click application for developing predictive models interactively making it easy for business users and data scientists to collaborate. This serves a wider group of users – statisticians, data scientists, line of business analysts, risk managers and others shifting toward merging self-service data exploration and reporting with advanced analytics. SAS Visual Analytics provides a single application for BI, data exploration and analytics to design and distribute BI reports and dashboards and explore data through interactive data visualization. Features include collaboration, auto charting, text sentiment analysis, interactive charts, dashboards and reports, integration with mapping technologies and mobile BI.
SAS Visual Statistics adds even deeper statistical analysis to existing SAS Visual Analytics capabilities. Accessed through SAS Visual Analytics' web-based, intuitive interface, the advanced tools solve difficult problems faster for better business decisions. Data scientists can still use SAS Visual Analytics to visualize and disseminate information across an enterprise.SAS Visual Statistics provide a drag-and-drop web browser interface to interactively and iteratively create descriptive and predictive models. Features include interactive data exploration and modeling environment, descriptive modeling, predictive modeling, dynamic group-by processing, in-memory analytical processing, model comparison, assessment, and model scoring.
Both products use SAS In-Memory Analytics processing to dramatically shorten time to business insight, regardless of data size. Multiple users can concurrently analyze complex data on Hadoop clusters, relational database systems or SAS servers. Users can build a regression model and then superimpose the predictions onto a geographic map with a few clicks. Data scientists can create models in SAS Visual Statistics and explore the predicted outputs in a variety of visualizations in SAS Visual Analytics, including predictive visualizations. And with support for iPhone 5 and later, and several Android smartphones, users can share and explore interactive visualizations wherever they are.