Review
SAP PowerDesigner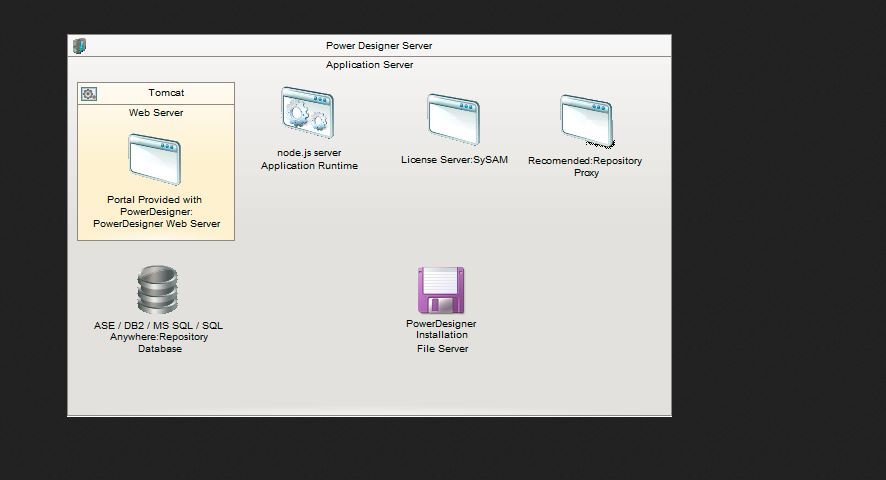 Overview
SAP PowerDesigner data modeling tools let you build a blueprint of your current enterprise architecture and visualize the impact of change before it happens.
Unified Modeling Language Tools
Robust modeling of business, information, application, and technology architectures
Automatic capture of enterprise architecture layers
Enterprise repository for sharing information across the organization
Integration with SAP HANA®, SAP Business Process Management, SAP Business Suite, and SAP Information Steward software; the SAP Solution Manager application management solution; and business intelligence solutions.
Small (<50 employees), Medium (50 to 1000 Enterprise (>1001 employees)
SAP PowerDesigner is an Enterprise Architecture tool for digital transformation success that enables its users to plan and manage complex business transformation initiatives. The software's data modeling tools let users build a blueprint of their current enterprise architecture and visualize the impact of change before it happens.
They can automatically capture architecture layers and requirements, tap into a powerful metadata repository, and share discoveries with their teams. SAP PowerDesigner offers multiple, integrated models to document existing systems visually and help users understand how business and technical environments interact. There are many options for reading in and aligning metadata already in their enterprises. The software addresses the decision-making needs of each distinct business area of an organization, providing the specific information each area needs in the language it recognizes. It ties all of the data, metadata, and diagrams together through its link-and-sync technology.
Moreover, SAP PowerDesigner helps decision makers see interconnections between architectural elements and know which parts of the business will be affected if the architecture changes. They can design proposed changes and represent them visually, conforming to the ways managers are used to seeing information, for a clear impact analysis that helps them understand and buy in to the changes.
Integration with SAP Business Process Management software and the SAP HANA platform helps SAP PowerDesigner streamline the planning, design, and communication of business process definitions. Users can capture current processes in normal business terms to drive new designs for process management. And the robust modeling functionality in SAP PowerDesigner helps users streamline communication and collaboration between business and IT as they improve the productivity of their development team.
You may like to read: Open Source, Free and Top Unified Modeling Language (UML) Tools and How to Select the Best Flowchart Software for Your Business