SAP HANA Functionalities and Benefits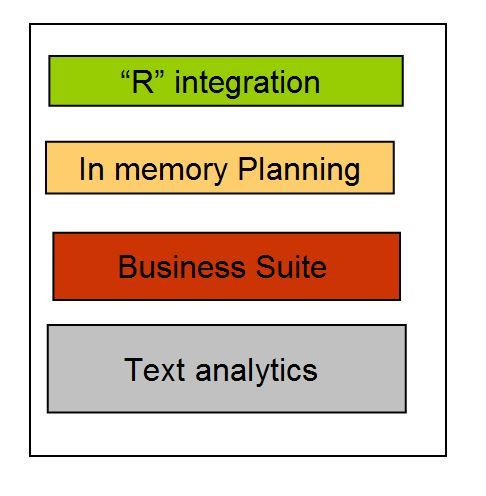 SAP HANA Functionalities and Benefits: In 2008, SAP CTO Vishal Sikka wrote about HANA as a new application architecture which enables real-time complex analytics and aggregation, up to date with every transaction, in a way never thought possible in financial applications.
In 2009 a development initiative was launched at SAP to integrate the three technologies above to provide a more comprehensive feature set. The resulting product was named internally and externally as NewDB until the change to HANA DB was finalized in 2011.
SAP HANA is the synthesis of three separate products – TREX, P*Time and MaxDB.
1.1 Service Packs of HANA
HANA In-memory database:
| | |
| --- | --- |
| Service pack | Release date |
| SP0 | Released on 20 November 2010 |
| SP1 | Released on 20 June 2011 |
| SP2 | Released on 27 June 2011 |
| SP3 | Released on 7 November 2011 |
| SP4 | Released on 15 May 2012 |
| SP5 | Q4 2012 |
HANA is not an acronym and is a name. HANA has been variously referred as an acronym for HAsso's New Architecture (a reference to SAP founder Hasso Plattner) and High Performance ANalytic Appliance.
SAP HANA Functionalities and Benefits
SAP BW on SAP HANA
Additional business functions and predictive algorithms
SAP HANA Studio Modeler enhancements
Enhanced enterprise fit and readiness
Additional and enhanced data provisioning capabilities
"R" integration
Unstructured text search
Enhanced security and authentication
Hadoop Integration (DS 4.1)
BPC on SAP HANA
Predictive Analysis on SAP HANA
Desktop visualization client for HANA (SAP Visual Intelligence)
Business Suite on SAP HANA readiness
Packaged Suite Analytics
New applications on SAP HANA
Enhanced developer support
Third-party tool certification and support (BI - SQL, monitoring, backup and recovery, data center operations)
Text analytics and file filtering
Explorer support for BW on HANA
Optimized Planning Enhancements
Odata support
Single sign-on with SAML
Data-at-rest encryption
Sybase Replication Server & ESP support
New applications on SAP HANA and SAP HANA Cloud
Additional Private Cloud deployment capabilities for SAP HANA
Power Designer Interoperability
HANA & SAP IQ Optimization and Integration
Native integration with Hadoop
Transformed SAP Business Suite processes leveraging merged OLTP & OLAP
Additional third-party tool support (ETL, BI – MDX, and more)
Further optimization & integration between HANA and Sybase IQ & ASE
Spatial support and integration
1.2 Key benefits of SAP HANA
1) SAP HANA Improve performance by replacing the traditional relational database:
The Columnar, in-memory technology is up to 100x faster, uses 60% to 80% less storage, and scales horizontally on cheap hardware ( Intel / Linux blade server).
2) SAP HANA Improve performance and reduce cost by eliminating application servers:
SAP HANA permits horizontal scaling of the database. Moving the application logic and complex queries into the database, eliminates the network traffic and allows faster performance.
3) SAP HANA Provide true real-time analytics and lower ETL costs by merging all transaction processing and reporting into one database:
The improved processing power eliminates the traditional problems with reporting loads in the operations database.
4) SAP HANA Analyze information in real-time at unprecedented speeds on large volumes of non-aggregated data:
SAP HANA creates flexible analytic models based on real-time and historic business data, with new category of applications which significantly outperform current applications.
5) SAP HANA enables Real-Time Decision Making, Accelerate Business Performance and unlock new insights:
Real time analysis is achieved by fast and easy creation of ad-hoc reports on business. SAP HANA increase the speed of transactional information flow in areas such as demand planning, supply planning, forecasting, pricing, order management, promotions etc.
6) SAP HANA Improve Business Productivity and Improve IT efficiency:
SAP HANA provides the tools for Business to design and own their own analytical models, which reduces business reliance on IT department. This also lower landscape costs.
Start RIGHT HERE If you are new to SAP HANA