SAP Fashion Management for Vertical Integration of Manufacturing, Wholesale and Retail Operations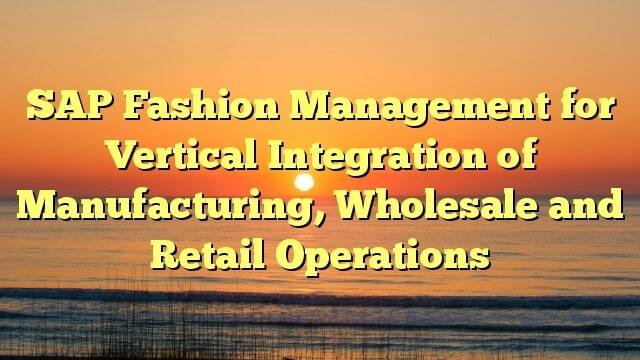 SAP Fashion Management, is a multichannel, vertically integrated fashion application that harmonizes wholesale, retail and manufacturing processes within one back-office software system. Built in collaboration with four customers, including adidas Group, SAP Fashion Management currently supports over 25 customers worldwide. New customers include Brooks Brothers, The Rockport Group and VF Corporation. The latest version of SAP Fashion Management brings most processes core to apparel and footwear companies to the SAP for Retail solution portfolio based on standard SAP ERP software powered by the SAP HANA platform.
"By including manufacturing capabilities in SAP Fashion Management, we are able to provide a truly vertical solution via end-to-end scenario integration," said Lori Mitchell-Keller, global general manager, Consumer Industries, SAP. "In addition, with SAP HANA there is access to transformative new processes such as multichannel material requirements planning or order allocation with the ability to simulate."
"We selected SAP to have a global, scalable system from an innovative partner with a strong background in fashion and retail," said Sahal Laher, executive VP and CIO at Brooks Brothers, a 200-year-old global retailer that has used SAP Fashion Management as a cornerstone in its digital transformation. The company began its transformation by implementing the SAP Apparel and Footwear application. This was the first step toward gaining control of its global supply chain. "The key process benefit that we've realized with SAP so far is better visibility into our inventory and our financials," Laher explained.
Brooks Brothers is also implementing the SAP Customer Relationship Management (SAP CRM) and SAP Customer Activity Repository applications. These systems will provide a 360-degree view of customers worldwide. The company prides itself on fine quality and personal service, but every customer is different and Brooks Brothers has a large assortment with thousands of stock-keeping units.
"SAP helps us simplify our customer experience by giving us a universal customer master database, which allows us to understand our customers, their purchase history and their preferences in a real-time manner," said Laher. "We cannot go to market with a one-size-fits-all approach."
"SAP HANA will power our customer master as well as our CRM system so we can go through large volumes of customer data and come out with personalized recommendations in near real time," continued Laher. And SAP Fashion Management will enable Brooks Brothers to operate its wholesale, manufacturing and retail business processes in one integrated system. "The ability to have all of those functions in one ERP system is extremely powerful for us," Laher said.