SAP and First Data Team Up to Transform B2B Payments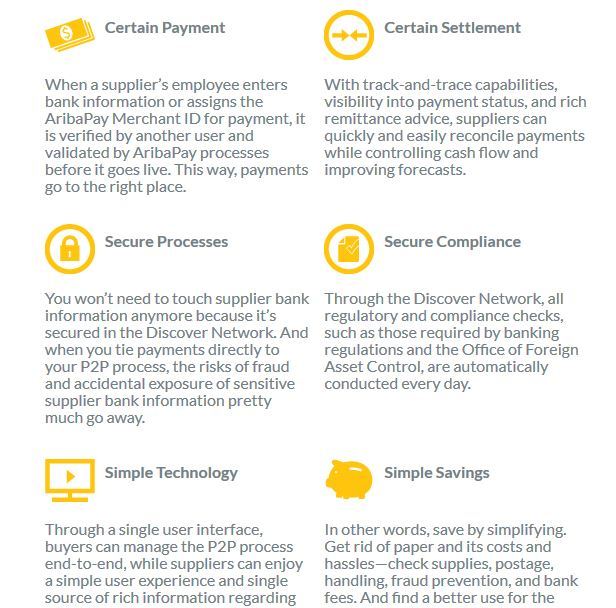 SAP and First Data Team Up to Transform B2B Payments : SAP and First data announced plans to eliminate the complexity from business-to-business (B2B) payments with the rollout of the AribaPay solution across Europe and Latin America.
An innovative electronic payment solution delivered through the Ariba Network, AribaPay enables companies of all sizes to complete B2B payments with the same simplicity, reliability and security that consumers do.
"In combining First Data's trusted global payments infrastructure with the unique insights and information-sharing capability of the Ariba Network, our companies can turn antiquated payment methods on their head," said Frank Bisignano, chairman and CEO, First Data. "We can help buyers and suppliers complete the procure-to-pay process faster, easier and with greater visibility."
AribaPay will bring together the best of First Data and SAP Ariba solutions to make the procure-to-pay process seamless. Leveraging SAP Ariba market-leading cloud-based solutions and business network, AribaPay automates transactions and delivers rich remittance information to improve billing and settlement between companies. Using the service, buyers and sellers can:
• Exchange purchase orders, invoices and payments — all in a fast, secure, electronic environment
• Lower processing costs
• Receive richer remittance advice
• Reduce fraud risk
• Track and trace transactions
• Speed reconciliation and dispute resolution
In joining forces with First Data – a global leader in commerce-enabling technology and solutions – to bring AribaPay to Europe and Latin America, SAP intends not only to help companies digitize payments but also to fuel a simpler, more efficient and more effective reconciliation process that creates real business value across the enterprise.
"Trillions of dollars in transactions around the world run through First Data and our Ariba Network," said Bill McDermott, CEO, SAP. "I'm very proud to stand with Frank Bisignano and his team at First Data to fundamentally transform the way commerce is conducted between companies with AribaPay. Together we're committed to bringing speed, transparency and simplicity to unleash the full promise of business networks in the digital economy."