Salford Systems CART to automatically generates accurate predictive models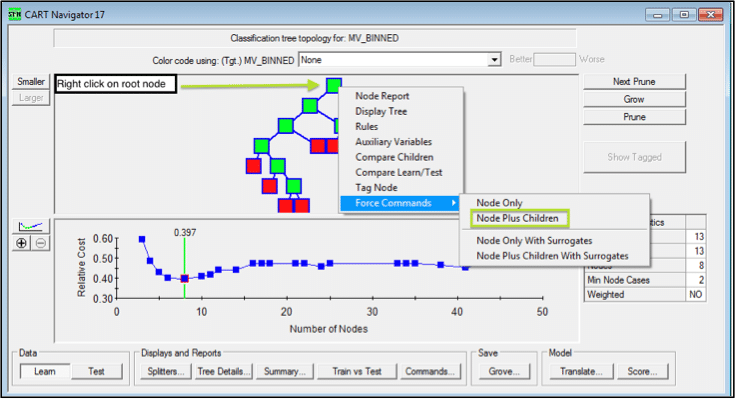 Salford Systems CART is a user friendly classification and regression tree software. CART produces the most reliable classification and prediction models for applications such as profiling "best" customers, targeting direct mailings, detecting telecommunications and credit-card fraud, and managing credit risk. "The most important data-mining business applications, such as classification and predictive modeling, can be accomplished using just CART," says Dan Steinberg, president of Salford Systems. "Many businesses don't need to go overboard buying data-mining suites, which contain multiple data-analysis components, cost tens of thousands of dollars, and require a high level of expertise to operate. As a cost-effective stand-alone package, CART gives beginning data miners a highly accurate, easy-to-use tool that does not require technical expertise." For experienced data miners, CART is a high-performance, proven methodology that can be used as an independent data-mining system and as a companion tool that can significantly extend preprocessing capabilities, such as variable selection, for neural nets and other data-mining systems.
CART uses an intuitive, Windows-based interface that enables non-technical business users to create models quickly and interpret results easily. The software uses historical data to discover patterns, trends and relationships, and it automatically generates high-performance predictive models that can be applied to new data. This information facilitates better business decisions and increases profitability. In addition, CART can grow to fit your business by easily expanding from single-desktop applications to enterprise-wide servers accessing data marts and data warehouses.
For experienced data analysts, CART provides the following advanced features in a combination not available in any other decision-tree package: multiple automatic self-validation procedures, adjustable misclassification penalties, intelligent surrogates for missing values, eight choices for tree-growing criteria, multiple-tree, committee-of-expert methods, or bootstrap aggregation and a complete programming language with flow control for on-the-fly data manipulation.
CART is also used for detecting credit-card and insurance fraud; customer profiling and market segmentation; identifying cross- and up-selling opportunities; credit-card scoring; medical diagnostic-test development; predicting assembly-line failures; and myriad other business-intelligence needs.
On the surface, CART's design automates several processes that traditionally require computer programming and statistical expertise. Underlying the "easy" interface, however, is a mature theoretical foundation that distinguishes CART from other methodologies and other decision trees. Salford Systems' CART is the only decision-tree system based on the original CART code developed by world-renowned Stanford University and University of California at Berkeley statisticians; this code now includes enhancements that were co-developed by Salford Systems and CART's originators.
"CART is the most accurate decision-tree software commercially available," says Steinberg. "This tree method is the fruit of a decade of machine-learning and statistical research, and our software is the only complete implementation of the original, proven algorithm."
You may also like to read, Predictive Analytics Free Software, Top Predictive Analytics Software, Predictive Analytics Software API, Top Free Data Mining Software, Top Data Mining Software,and Data Ingestion Tools.
Top Predictive Lead Scoring Software, Top Artificial Intelligence Platforms, Top Predictive Pricing Platforms,and Top Artificial Neural Network Software, and Customer Churn, Renew, Upsell, Cross Sell Software Tools
More Information on Predictive Analysis Process
For more information of predictive analytics process, please review the overview of each components in the predictive analytics process: data collection (data mining), data analysis, statistical analysis, predictive modeling and predictive model deployment.