Salesforce Wave Analytics to uncover insights and take instant action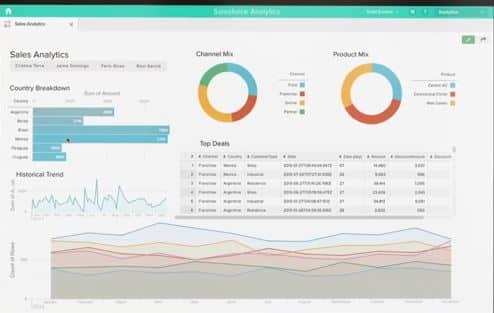 Salesforce Wave Analytics to uncover insights and take instant action : Wave Analytics Apps, is a new generation of role-specific analytics apps that empower business users with the insight to take action, instantly. Sales Wave Analytics, will deliver personalized templates, historical analysis and the ability to take immediate actions, helping sales leaders accelerate revenue growth. The ability to derive insights from large amounts of data, and then immediately take action, is interwoven in today's most popular consumer apps. For example, travel analytics apps like Kayak not only allow consumers to search and filter nearly 40 million annual commercial flights in seconds, it also allows them to book their preferred flight instantly. Similarly, in addition to providing driving directions and optimal routes for a destination based on real-time traffic, Google Maps also delivers turn-by-turn navigation while a person is driving. Legacy analytics software is disconnected from both relevant data feeds and the point of action, preventing companies from keeping pace with the speed at which business decisions must be made today.
With Wave Analytics Apps, Salesforce will expand its Analytics Cloud portfolio to deliver analytics apps that are built to deliver intelligence, business context and instant action. Wave Analytics Apps will include Accelerator Templates, Historical Analysis, and Wave Actions.
Wave Analytics Apps will instantly populate CRM data into these templates, so users are up and running in minutes. Bringing together the best practices, KPIs and metrics that every department needs to track makes it easy for business leaders to take the pulse of their team's performance at any moment and move their business forward faster. The smartest decisions are made based on an understanding of both the current health and past performance of the business. Wave Analytics Apps will instantly surface historical trends and year-over-year comparisons from any device, providing business users the ability to identify seasonal trends, behavioral patterns and cyclical issues. Business users needing historical perspectives to make critical decisions will no longer have to delay action while waiting for an analyst or spend time cross-referencing static spreadsheets. When insights lead to a decision, business users will now be able to act on it instantly within the app, whether it is creating a task, initiating a conversation or even changing a performance measure. And because Wave Analytics Apps are natively integrated with the Salesforce1 Platform, pre-defined data flows will not only enable changes made in the app to be reflected automatically within Salesforce, but will also update all corresponding metrics in Salesforce related to the changes.
Sales Wave Analytics is the first Wave Analytics App in the portfolio. Now every sales leader will have the ability to boost team performance and adapt to changes in their business faster by transforming insights into action from any device. Sales Wave will deliver, Sales Wave Accelerator Templates, Sales Wave Historical Analysis, and Sales Wave Actions.
All Salesforce sales data can be instantly explored through pre-configured sales accelerator templates — including everything from pipeline management and forecasting to quarterly business reviews, team performance and more — developed specifically for today's sales organizations. For example, a sales operations executive will be able to instantly conduct a real-time pipeline analysis and cross reference it with product sales performance from their mobile phone to determine whether they need to reset forecasts or identify which deals need to be accelerated to hit key targets.Sales leaders no longer have to wait for an analyst to deliver historical metrics that could impact future decisions – they can be surfaced instantly on any device on a whim. Now, every sales leader will be able to organically explore every facet of a sales team's historical performance — such as sales revenue by quarter, year-over-year sales rep productivity, opportunity conversion rates at various funnel stages, or length of sales cycles based on deal size — to identify undiscovered trends and investment areas that will shape future growth. Sales teams can create new tasks, change close dates and engage with the right people, directly within the app, saving time and valuable cycles. For example, coaching and team performance is an intrinsic part of a regional sales manager's role. Now, managers will not only be able to identify high performers, but also re-deploy them to work with underperformers to share best practices and close critical large deals to exceed quotas and grow the business.
The Wave Platform brings together a dynamic user experience, indexed search and a high-speed query processing engine into a single, vertically-integrated cloud analytics platform. With its schema-free architecture, data does not have to be pre-sorted in some narrowly defined manner before it can be analyzed. So business users can instantly query entire data sets or build customizable dashboards, lenses and charts to intuitively explore data. Optimized for both mobile phones and tablets, Wave's responsive, free-form navigation empowers users to quickly analyze patterns, discover new trends and deliver actionable insights from anywhere to keep their business moving forward.