Review
Saint Louis University, MS in Supply Chain Management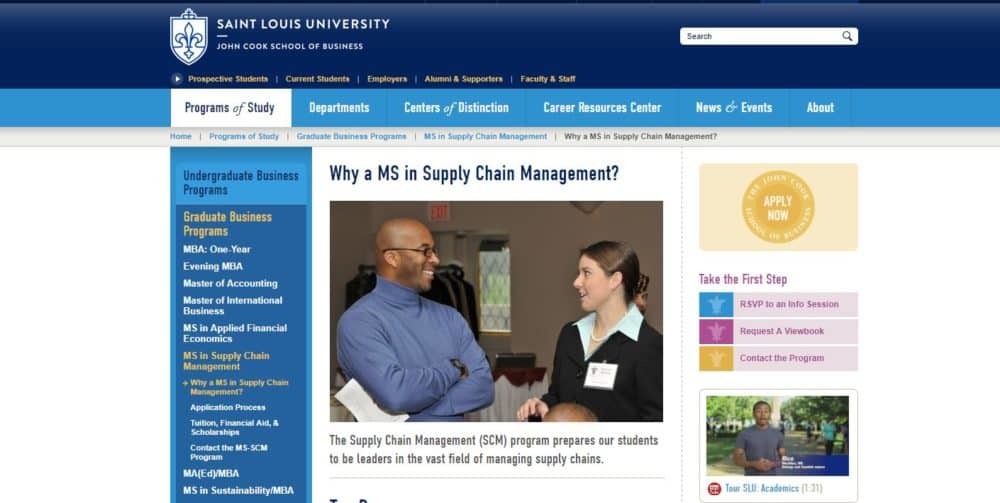 Overview
Supply Chain Management students learn key business processes that drive profitable business growth, which positions them to hold a sustainable competitive advantage in the business world.he Master of Science in Supply Chain Management curriculum at the Cook School focuses on the theoretical as well as the applied supply chain and logistics skills that are essential in today's competitive global supply chain environment.
Supply Chain Masters Programs
• 42 program hours
• Internships
• Class projects
• 22 courses
• 10 electives
• Capstone project
Master of Science in Supply Chain Management
What is best?
• Internships
• Class projects
• 22 courses
• 10 electives
• Capstone project
What are the benefits?
• Learn from experts in the field
• Scholarships available
• Pertinent resources to ensure effective learning
• Dedicated, proficient faculty
• Internships
Master of supply chain management from Saint Louis University is a program that gives students pertinent tools necessary to create real and lasting business change. The curriculum enables prospects to develop strong ethical and technical skills. The proficient faculty is aware of the competitiveness in the supply chain hence addresses the critical link between demand creation and the fulfillment of demand. Foundation courses are offered where prospects learn accounting for managers, statistics, operations management and strategic sourcing and procurement. There are a variety of electives to choose from, in accordance to your chosen path. In total, one has to complete 42 program hours in order to graduate, where thorough learning is done-both theory and practicum. The eminent program prepares students for the global competition as they learn the use of quantitative, and computer models to achieve desired quantities of the appropriate goods and services. The theory goes hand in hand with the exposure to do the design, implementation, management of efficient ways to integrate the flow of materials and information among suppliers and manufacturers. These skills are reinforced and complemented by class projects and internships. The activities give students insights into the real world problems associated with supply chain management. Prospects learn to solve problems related to the field even as they study.