Review
Sage HR Management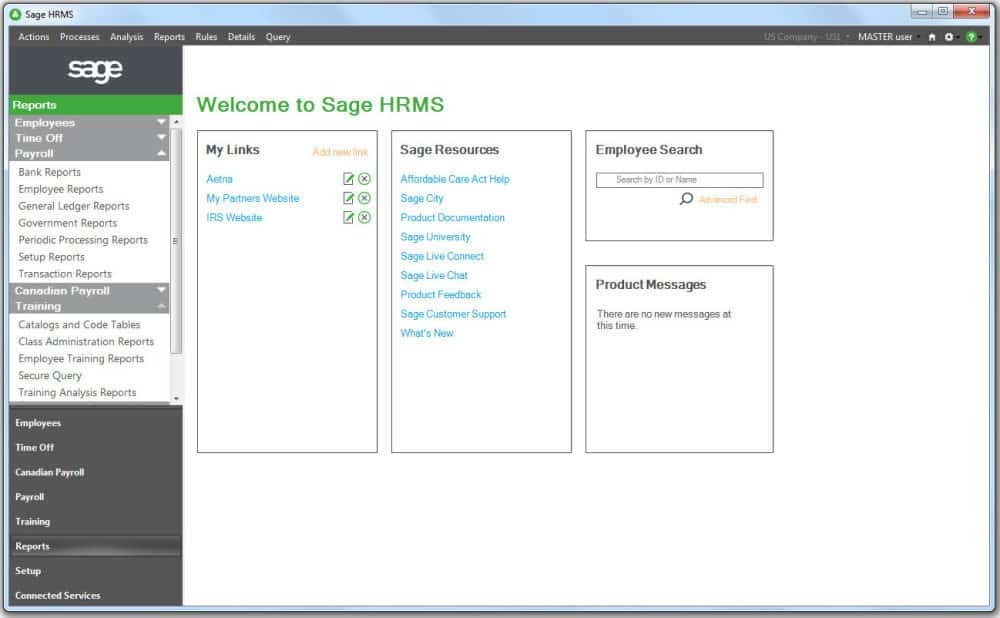 Overview
The Sage HRMS Talent Management solution includes performance management, training, and other modules that help the user develop and retain the company's talent by utilizing and managing its skills. Plus it motivates the costumer's employees
Core HR Software, HRMS Software, Talent Management Software, Workforce Management Software
• Payroll Management and Processing
• Recruiting and Onboard processing
• Time and Labor
•Talent Management
Small (<50 employees), Medium (50 to 1000 employees), Enterprise (>1001 employees)
What is best?
• Payroll Management and Processing
• Recruiting and Onboard processing
• Time and Labor
•Talent Management
What are the benefits?
•Reduces administrative work and refocuses on your people
•Fosters stronger, fact-based decisions with better workforce analytics
•Ensures compliance and helps avoid risk with government regulations and reporting
Sage integrates payroll, benefits, talent development, recruiting and employee self-service all in one, it reduces administrative work and refocuses on the business's employees with an amazing HR system which fosters stronger, fact-based decisions with better workforce analytics and ensures compliance and helps avoid risk with government regulations and reporting. Sage's software solutions, it can connect the business to a community of strategic advisors, partners and experienced resources.
Attracting skilled employees is expensive, and being able to retain them is important for efficiency and sustained profitability. Successful employee engagement plays a key role in preventing the loss of valuable employees. Over 50% of a human resources department's time is spent processing employee information and answering questions.
Implementing a human resources management system eliminates much of the routine paperwork associated with HR. Gain complete control over a company's payroll process and sensitive data. Sage HRMS Payroll is ain-house HR solution for producing accurate, timely payroll. Nothing is as expensive as hiring the wrong employee. Sage HRMS Recruiting and Onboarding solution automates and streamlines the entire recruiting, hiring and onboarding process. Hires and uses time and attendance management solution integrates seamlessly with Sage HRMS to automate timekeeping and scheduling tasks.
The Sage HRMS Talent Management solution includes performance management, training, and other modules that help the user develop and retain the company's talent by utilizing and managing its skills. Plus it motivates the costumer's employees. A highly skilled workforce is critical to continued success, and employee learning and development is taking center stage. Industry professionals are looking beyond the classroom for new delivery models and engagement strategies.
Securely provide on-demand workforce data to executives, managers and others with powerful analytics technology that delivers accurate, timely information about employees. Employee data is often duplicated in an HR system and Microsoft Active Directory repository. Sage HRMS Active Directory Conduit by Delphia Consulting updates required, redundant information for HR and IT departments, so there are no more discrepancies or wasted efforts.
You may like to read: Top Core Human Resource Management Software (Core HR) and How to Select the Best Human Resource Software for Your Business