Rocket Discover, Self Service Data Preparation and Discovery Solution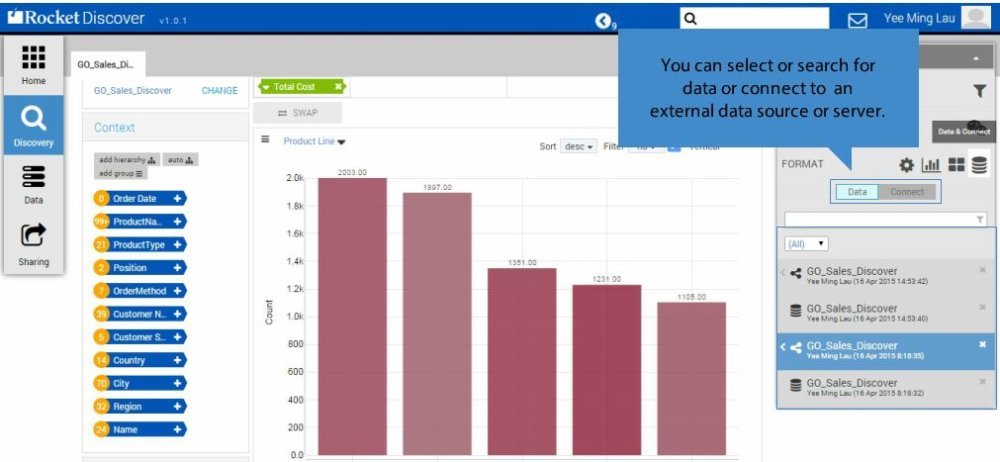 Rocket Discover, Self Service Data Preparation and Discovery Solution : Rocket Discover, is a self-service, intuitive data preparation and discovery solution to give business managers and executives the speed and confidence to make key decisions. Rocket Discover allows users to easily access, manipulate, prepare and visualize data to expose insights and help them make critical business decisions that will drive growth and outpace the competition. Now business users can easily access and enrich data from multiple sources – ranging from mainframes to databases to the cloud. With self-service data preparation and discovery in one solution they can get business insight within minutes, not days or weeks. For optimal performance Rocket Discover was engineered with a data-retrieval architecture that combines in-memory performance with live query access, a hybrid approach that can handle today's high volume thresholds.
"Companies facing critical business issues know that they need to act fast and act smart, but they often don't have the right information at their fingertips to investigate and quickly resolve the problem," says Bob Potter, Senior Vice President and General Manager of Business Information and Analytics at Rocket Software. "While there are many self-service BI solutions on the market, we continue to hear about critical functionality that these solutions lack: self-service data preparation, access to the mainframe, and scalable performance. With this in mind, we built Rocket Discover to be a world-class visual data discovery tool for business users that addressed these gaps."
Today's business professionals know their data, their business challenges, and the need to quickly connect the two to address these challenges. Rocket Discover's emphasis on intuitive design for self-service data preparation and discovery makes this possible. Users can easily interact within a rendering canvas to create visual data process flows and dashboards through simple drag-and-drop movements. And when it's time to collaborate, team members simply drag a dashboard into the chat window for immediate dialogue on strategy and opportunities. Rocket Discover provide connectivity to disparate data that includes IBM z Systems and IBM Cognos TM1, self-service data preparation and data discovery in one solution, data Lineage for governance and high Performance data access for rapid decision making.