Review
Roadmunk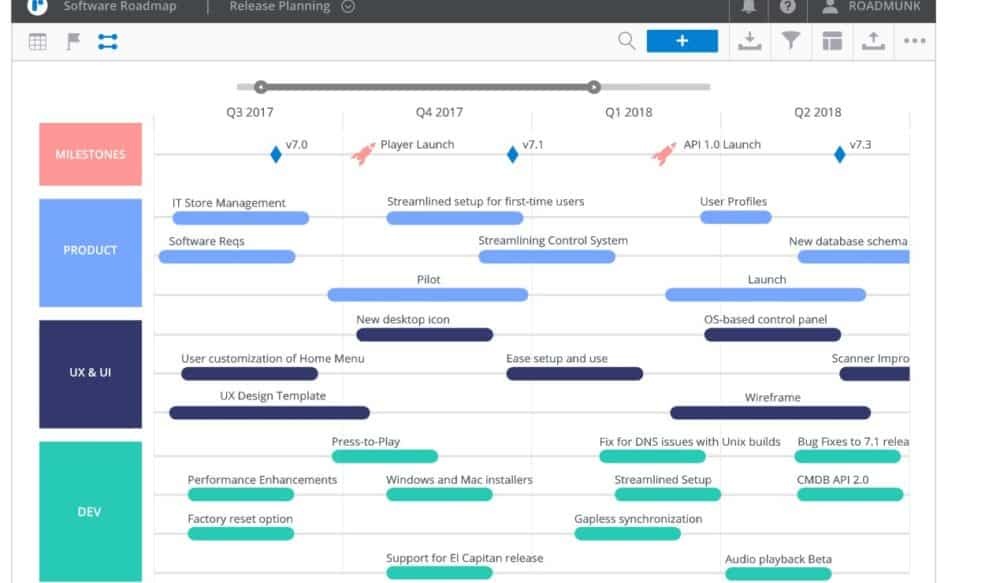 Overview
Plan, create and share beautiful product roadmaps with Roadmunk.
Product Management Software
• Roadmap Views
• Plan
• Collaborate
• Visualize
• Secure
•Starter $19 per user / month
•Business $49 per user / month
•Professional $99 per user / month
Small (<50 employees), Medium (50 to 1000 Enterprise (>1001 employees)
What is best?
• Roadmap Views
• Plan
• Collaborate
Roadmunk is a visual roadmap software for product management. Roadmunk lets users build a roadmap in minutes by importing their data from JIRA. Users chooses between Timeline View and Swimlane View, or mix-and-match multiple views of their roadmap. Users can work in tandem on roadmaps and share plans across their entire company. Roadmunk lets users discuss initiatives and attach files right inside their roadmap. Roadmunk produces great-looking visualizations which help meetings go a whole lot smoother—and faster.
Roadmunk provides roadmap across multiple products, portfolios and teams. Roadmunk can also build and manage individual roadmaps, then merge them together into a Master. Roadmunk also lets users get started fast and simple when users use one of its ready-made roadmap templates. Each template includes a Timeline View and Swimlane View, and can be fully customized. Users can then visualize their product strategy on a timeline or with swimlanes. Users can make one data set to create and save custom views tailored to each audience.
Roadmunk also makes it possible for users to share plans, solicit feedback and centralize strategy within one tool. Roadmunk maximizes users' impact by using their brand's unique color scheme, or one of its curated palettes. Roadmunk creates alignment around initiatives, objectives and milestones by visualizing users' strategy on a timeline. Roadmunk is registered with the world's leading standard for information security management systems. So users can protect their data by storing their roadmap in a dedicated server hosted by Amazon Web Services. Users can also access Roadmunk through their company's preferred identity provider.
You may like to read: Top Product Management Software and How to Select the Best Product Management Software for Your Business