Review
RISCNetworks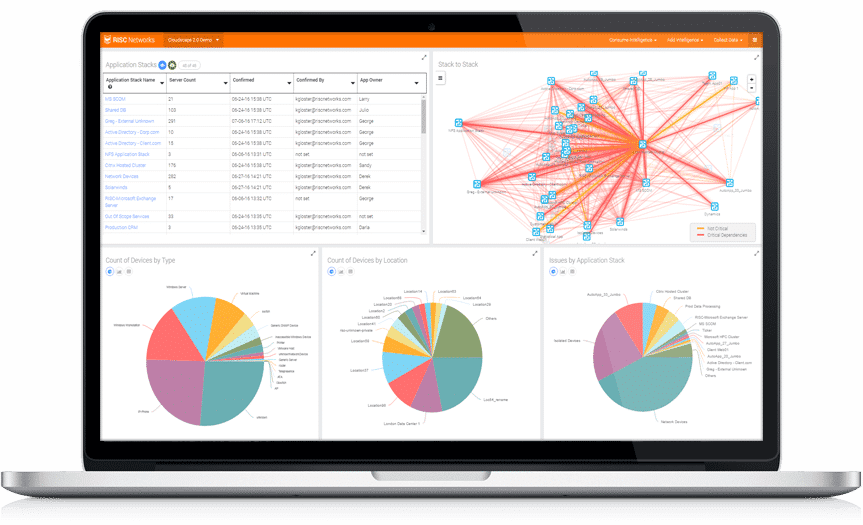 Overview
RISC Networks CloudScape delivers the data needed to help medium to large organization discover the best opportunities for cloud, visualize the entire IT infrastructure and save thousands before they move to cloud.
Network traffic analytics
Planning, troubleshooting, migrating
Network traffic simulation
Locations/tagging, dependency mapping
virtualization, WAN acceleration
Starting at $11 per workload per month
Flow Add-on
$125 annually / host
Small (<50 employees), Medium (50 to 1000 Enterprise (>1001 employees)
RISC Networks' vision is to unlock business potential by delivering more meaningful data analysis; information that helps guide IT leaders in solving their problems, tools and programs that help prepare for change and to take immediate action. RISC Networks mission is to improve the performance of our partners and customers businesses and make a difference in their lives by developing technology and research that supports an actionable approach and perspective for their IT business. The success of RISC Networks is dependent on the partners and customers' success. With the goal of simplifying their daily activities and producing the outcome they expect from their IT solutions. The most important thing RISC networks can do is help the partners and customers succeed. Help them identify where to act, what the best options are and how to track the impact of those actions. RISC networks believe it is infinitely more challenging to be simple. RISC networks ability to create new technologies that operationalize unique perspectives has the potential of changing the world around, while solving difficult problems for the customers. RISC networks' goal is to be a leading voice and example in the information technology industry by providing transparency in every interaction with the employees, partners and customers. RISC Networks stands apart from other vendors with an industry leading Software-as-a-Service (SaaS) delivered, comprehensive IT Operations Analytics (ITIOA) platform that enables IT leaders to transform their businesses with more relevant information with the least amount of effort. RISC Networks analytics encompass three key areas which are; Cloud Infrastructure-as-a-Service (IaaS) Migration, Cloud IaaS Landscape Analysis, and IT Infrastructure Assessment and Analysis.