Review
AspireIQ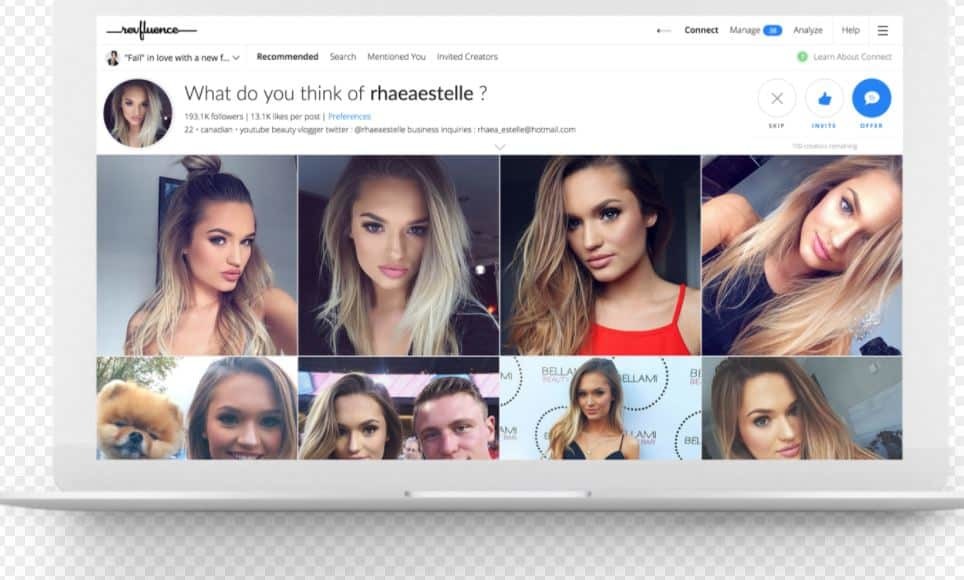 Overview
The Revfluence platform enables you to generate original content with influential content creators that can drive new customers and followers for your brand
Social Influencer Marketing Software
• Sales tracking
• Traffic drive
• Engagement
• Comment sentiment
• Follower attribute
• Top performers
Small (<50 employees), Medium (50 to 1000 Enterprise (>1001 employees)
What is best?
• Traffic drive
• Engagement
• Comment sentiment
• Follower attribute
• Top performers
What are the benefits?
• Grow your brand across social media
• Customized influence communities
• Sophisticated discovery engine
• Organize and track with customized CRM
• Beautiful dashboard to measure your ROI
Revfluence is an influencer platform for brands and creators mainly for agencies.it has an end-to-end software solution that is custom built for agencies to run highly-customized influencer campaigns. It helps agencies with self-service and transparent and direct access to influencers without middlemen. Revfluence has proprietary matching algorithm that helps find perfect influencers for any campaign, builds personalized influencer groups for industry based campaigns.
It helps create, manage and track complete and customizable campaigns completely using the full suite tools. It has a single dashboard for every client and campaign you are working on. The dashboard is customized to share results on awareness, traffic and conversations as well as having the exclusive access to creators. You are able to boost content organically via influencer accounts.
Revfluence has an analytics dashboard for you to easily forward reports to your clients. It also helps you to collaborate directly with clients rather than the traditional back and forth messaging. Revfluence has ability to search over 500,000 influencer accounts; Blue wheel media recommends Revfluence as a perfect creator for each campaign, reaching highly targeted audiences within verticals like fashion, moms, lifestyle and food. Some successful brands that work with Revfluence include Flipbelt, Bareminrals, Calvin Klein, and Glossy Box among others. It is preferred because it helps the reach huge audiences for a much lower cost and its ability to efficiently scale their influencer marketing.
Revfluence streamlines the influencer marketing process and is the best on-demand platform for influencers. With Revfluence you can generate original content with influential content creators to drive new customers and followers to your brand. Revfluence helps build ambassador network of 10 to 1000 powerful influencers supported by its CRM that is built specifically for influencer collaboration.