Review
Repucaution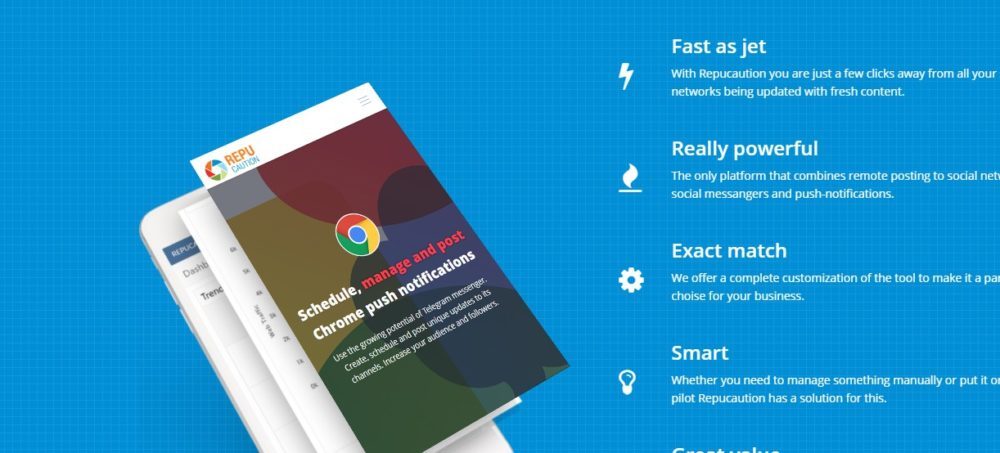 Overview
Repucaution provides a complete set of tools to effectively manage social media marketing campaigns and perform day-to-day activities.
Social Media Management Software
• Social posting
• Image designer
• Telegram posting
• Advanced scheduling
• Push-notifications
• Reporting
Small (<50 employees), Medium (50 to 1000 employees), Enterprise (>1001 employees)
What is best?
• Social posting
• Image designer
• Telegram posting
• Advanced scheduling
• Push-notifications
What are the benefits?
• Helps you manage and analyze social media channels
• Discover new leads and customers in social networks
• See your sales grow
• Track brand mentions
• Reviews
• Monitor web traffic
Repucaution is a free open source system for social media management and monitoring designed to improve your company's online presence. It helps your company track its social media and also its reputation at one place. It requires no special skills.
Repucaution is an excellent solution for your social media marketing agency or if you are one of those who want to provide extra tools for your customers. It's very easy for you to install and maintain and regular updates that are readily available. With Repucaution, you will be able to track brand mentions in Twitter, Instagram, Google Plus and manage pages: update statuses, post images and videos and schedule updates. Repucaution also allows you to track any new reviews that may be received for your company in popular local directories.
Repucaution has a social posting feature that lets you update Twitter, Facebook and LinkedIn accounts remotely. It has an image designer feature that's built-in and allows you to distribute fresh graphics across all networks. It also includes a telegram posting feature that works by scheduling and updating your public chat through its web dashboard. The advanced scheduling feature is perfect for scheduling your posts way in advance or help you set up recurring posts. The push-notifications feature allows you to schedule and manage chrome push notifications. It also has a reporting feature where a number of social media reports are made available.
Repucaution is beneficial to your company in that with just a few clicks, you can update all your social networks with fresh content. It's also very powerful as it's the only platform that combines remote posting to social networks, social messengers and push notifications. It offers a knowledge base that is constantly updated for social marketing so as to furnish you with a fresh stream of fresh ideas.