Review
Repignite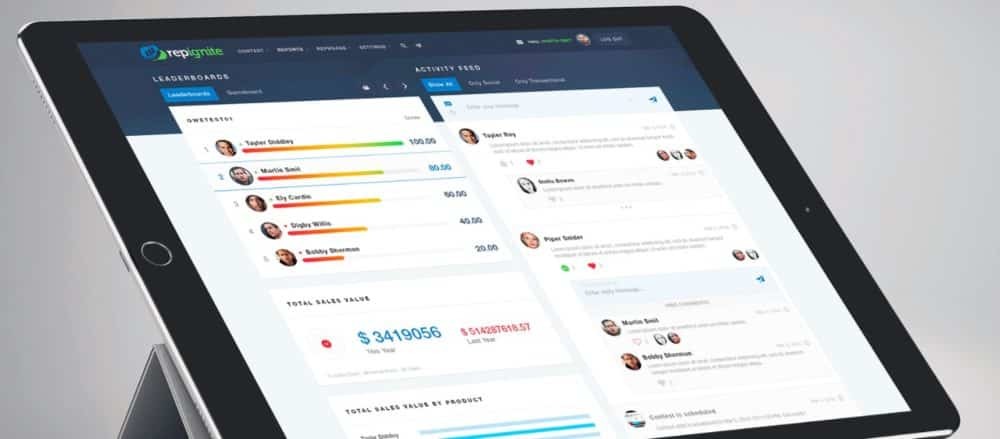 Overview
Repignite application offers companies new ways to motivate salespeople and makes it easy for managers to identify and motivate the key behaviors that drive sales success!
• EASY setup sales contest
• KEEP all sales reps engaged
• Achieve company goals
•Multiple Data Sources
•Anytime, anywhere access
•Advanced Analytics
Small (<50 employees), Medium (50 to 1000 Enterprise (>1001 employees)
What is best?
•Multiple Data Sources
•Anytime, anywhere access
•Advanced Analytics
Repignite, motivate and engage user field reps or inside sales team; get more deals faster; skyrocket sales conversions and employee satisfaction; track individual and team progress and easily deploy competition around any behavior. Repignite engages employees in a new and exciting way.
Teams can compete through leaderboards that elevate the competition with instant visual representation. In addition Repignite promotes more deals faster; increase quota attainment; use templates to focus on goals the company should achieve and also make company numbers by motivating the core performers who usually represent the largest part of the salesforce.
Repignite lets users choose desired metrics, monitor specific KPIs; define quota & commission levels; allow the sales representatives to start fair competition and fulfill Your company sales goals. Users can also integrate different data sources, measure key performance indicators, and combine them into powerful realtime dashboard. Users can fetch data using the API or connect directly to Salesforce CRM.
The application is based on SAAS model so sales reps or inside sales staff members use it from desktop, tablets or smartphones. Repinite respects data privacy with highest possible security level and offers monthly and annual flexible pricing plans based on numbers of users. All plans include the core product components and everything users need to manage powerful sales contests. Users need no spreadsheets and no whiteboards.
It is a pure sales and fair play competition. Users can avoid unnecessary disputes over sales and compensation. Higher morale means lower turnover. Repignite's robust analytics provide clear insights about user sales team performance (KPIs). Analytics measure company revenue and ROI using built-in advanced reporting tools.