Review
RelPro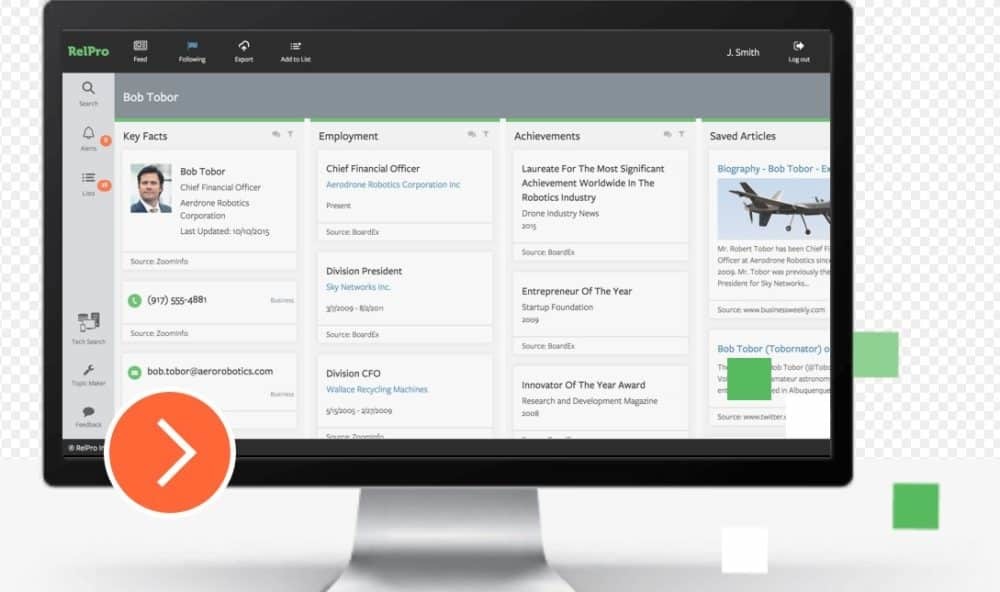 Overview
RelPro empowers sales and marketing teams to quickly and easily find accurate, real-time prospects. Powerful search functionality can be customized so that only relevant results are returned, saving time and effort.
Sales Intelligence Platform
• CRM Integration
• Alerts
• Actionable insights
• Multiple data sources
• People & Company search
• Tech search
• Relationship mapping
• Data services
Small (<50 employees), Medium (50 to 1000 Enterprise (>1001 employees)
What is best?
• CRM Integration
• Alerts
• Actionable insights
• Multiple data sources
• People & Company search
• Tech search
RelPro enables companies to leverage on data aggregation and analytics to establish and develop executive-level relationships efficiently and systematically. RelPro is easy to use and requires no special setup or software. RelPro's database contains contact details and relationship intelligence for over 150 million decision-makers at 7+ million companies, amassed from the finest sources globally.
This enables you to easily and accurately find real-time leads, at large and mid-market companies, including company executives and senior management, thereby developing or strengthening existing relationships. RelPro's simple user interface offers a flexible search experience allowing you to create your own custom search topics and keywords. You can refine leads by multiple search criteria including name, company, role, location, industry, or any other attribute, letting you view tailored content for only people or companies that are of interest to you.
You can also save the discovered prospects (companies and people), to personalized lists for future reference. RelPro's Profile-following and Email alert functionality keeps you up-to-date on everything newsworthy by sending to you, weekly alerts on individuals or companies containing relevant and timely insights. RelPro's advanced technology search filter allows you to find companies that use a particular technology or software component in their technology stack. Technologies that can be searched include; cloud services, project management, data center solutions, CRM, BPM etc.
RelPro can also provide connectivity analytics and job change alerts providing a powerful relationship mapping advantage. RelPro data can be exported to Salesforce or into CRM systems as CSV or PDF files, to share with colleagues or for use in sales campaigns. RelPro also lets you share your curated profile pages with other RelPro users, or create read-only versions for those without a RelPro account.
RelPro Data Services help you get more from your own relationship and CRM data, prioritize which relationships to target, reveal new connections, and refine data for maximum cost efficiency.
You may like to read: Top Sales Intelligence Platform