Review
Raiser's Edge NXT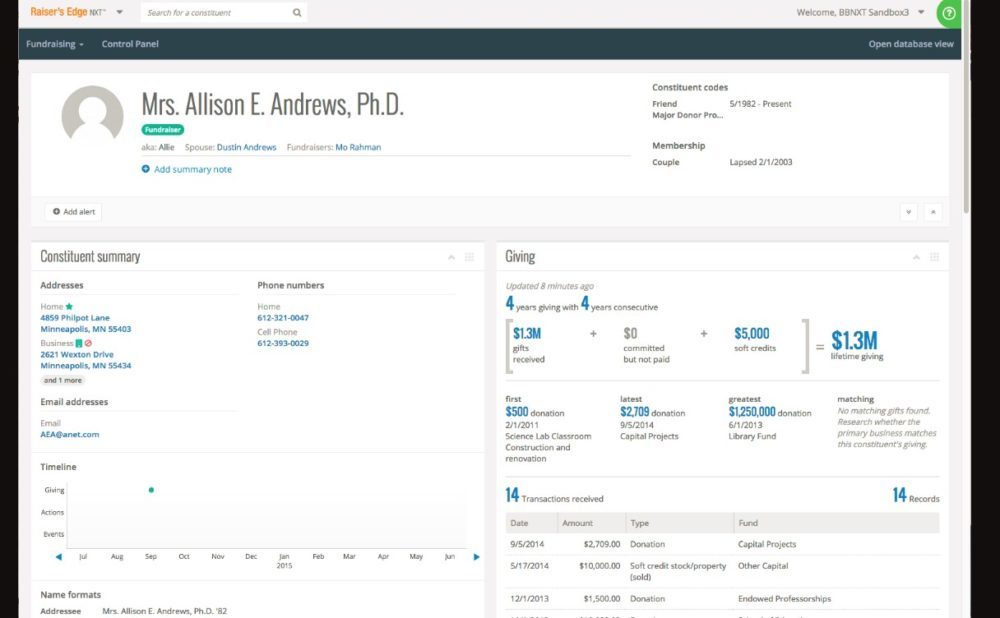 Overview
Raiser's Edge is a fundraising system designed especially for non-profit organizations. It's also a customer relation management tool and a unique performer the market has to offer to fundraising institutions.
• Regular releases & Donor Management
• SKY Reporting & Lists &Work Centers
• Attachments &Notes
• Record Security &Batch Gift Entry
• SKY API , Donor Base & Segmentation
• Simplified Payment Process
• E-Marketing & CRM and Event Mobile App
• Data Health Scorecard & Mobile Payments
• Address Finder & Integrated Wealth Ratings
• Volunteer Management, Reporting &Analytics
• Single User Charge – Starts at $5000
• Multi-user Charge – $5000 to $9000+
• Yearly Support for Single User – $700
• Yearly Support for 2 or More Users – $1000+
• Training Vendor Location – $1500+/student
• Additional modules – $2000/module
Small (<50 employees), Medium (50 to 1000 Enterprise (>1001 employees)
What is best?
• Discover donors at risk of lapsing and take action to drive more recurring gifts.
• Target top prospects to solicit gifts with Wealth Analytics that finds likely major donors and recommends the gift size they should be asking for.
• Empower the best supporters to raise money on the users behalf with crowdfundraising tools that make it easy to gain viral support.
• Provide suggested minimum and maximum ask amounts for the constituent's next gift.
What are the benefits?
• Bring an organization together, with role-based work centers built specifically to help track individual and team performance, manage portfolios and quickly see last touch points.
• Reach prospects, send engaging communications, and increase the likelihood of first-time donations.
• Increase reach with data enrichment services that find missing addresses, emails, and phone numbers for the user.
• Engage with supporters and understand the impact of the campaigns across channels.
• Automatically process online donations, pledges and payments through the website with ‹no manual entry required.
• Increase donor retention, upgrade major donors, and empower evangelists to raise money on behalf of the organization.
Raiser's Edge is a fundraising system designed especially for non-profit organizations. It's also a customer relation management tool and a unique performer the market has to offer to fundraising institutions.
Raiser's Edge leads the user to the complete accomplishment of their funding targets by keeping in loop more donors than the ones they have considered. It also gives the user the opportunity to organize and promote webinars and non-profit events to turn fundraising management into an interesting and enjoyable experience. Raiser's Edge NXT allows organizations to operate more efficiently by streamlining data, reporting, and processes to set a stable foundation for growth in one smart, all-inclusive cloud solution.
Raiser's Edge is genuinely designed to maintain the records in a good condition, which is why it also gives the user access to the Blackbaud community where they can exchange campaign experiences. It has a donor segmentation feature which gives the possibility to divide donors depending on the amount they are donating, and the manner in which they are transferring it. SKY UX is a modern, easy-to-use, mobile responsive and consistent user experience that seamlessly delivers information and insights on-the-go from any device.
With SKY Reporting, the user can assess the organization's overall performance and effectiveness. Visualize the performance of actions, campaigns, appeals, and other areas with pre-built dashboards. Connect insights across their organization by creating easily customizable reports. Set goals to improve KPIs and manage the organization's performance to those goals.
In Lists and throughout Raiser's Edge NXT, the user can manage groups of records that share characteristics, such as to analyze fundraising activity, review a constituent's giving, or assign relationships to fundraisers. To help focus on relationships that need the attention, Raiser's Edge NXT automatically listens to the constituent records and tags them based on special situations such as upcoming birthdays or lapsed giving. An easy-to-use interface for inputting donations helps you save time and money.
Raiser's Edge NXT makes it easy to reach and engage new donors with acquisition tools that help the user communicate and fundraise more effectively to bring new supporters to an organization. Raiser's Edge NXT comes standard with the cultivation tools that help the user act on key insights to retain their existing donor base and empower them to grow over time. Raiser's Edge is available for mobile users as well.
You may like to read: Top Fundraising CRM Software and Top Fundraising Software
Raiser\'s Edge NXT Awards