Review
Qualtrics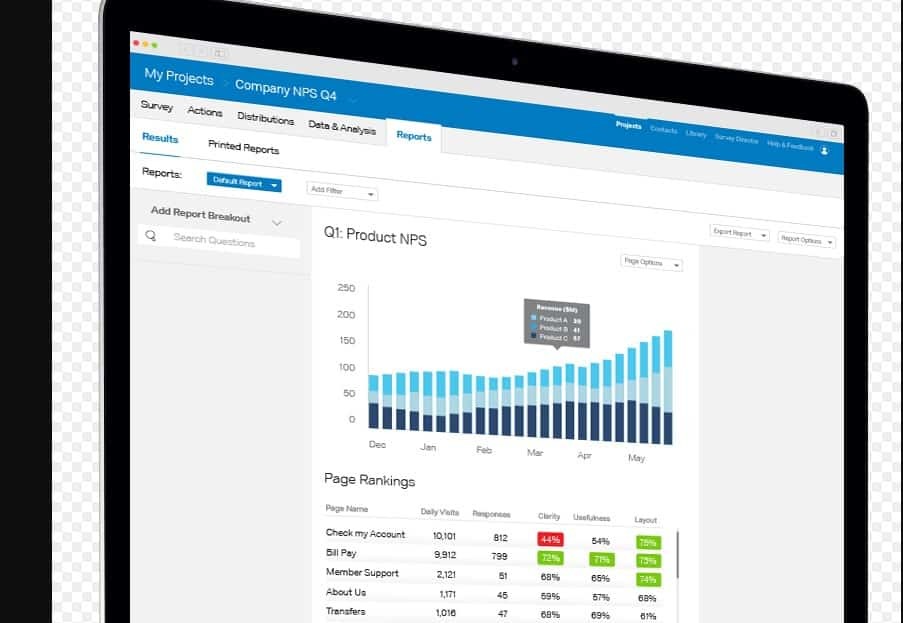 Overview
Qualtrics is a single system of record for all experience data, also called X-data, allowing organizations to manage the four core experiences of business—customer, product, employee and brand experiences—on one platform.
• Ad Testing
• Concept Testing
• Product Development
• Employee 360s
• Employee Engagement
• Multiple question types
• Site Intercept
• Marketing Research
• Customer Satisfaction Surveys
• Mobile/SMS Survey
• API
• CRM Integration
• Assessment tools
• Price is at quote basis
Small (<50 employees), Medium (50 to 1000 Enterprise (>1001 employees)
What is best?
• Employee 360s
• Employee Engagement
• Multiple question types
• Site Intercept
• Marketing Research
• Customer Satisfaction Surveys
What are the benefits?
• No coding required to create or modify surveys
• Survey flow logic option enables you to create unique surveys
• Advanced branching and skip logic
• Embedded data
• Share online reports with collaborators
• Schedule reports to be automatically send to collaborators
Qualtrics is the most entrusted research platform in the world, graced with infinite use cases such as customer satisfaction, product &R&D, segmentation and strategy, as well as marketing and brand research. Users have in the past used Qualtrics to gauge performance of competitors against their own, conduct complex academic research, advertising and product testing and much more.
Creating survey has been simplified as you can customize it in order to personalize and brand it by adding logo and using numerous themes option. There are more than 100 question types to choose from-be it academic or market research or a simple customer satisfaction survey, Qualtrics got you covered. The survey flow logic is tailored to meet your needs and help in arrangement of the questions in a logical manner.
Management quota has been put in place to ensure only the demographics of respondents chosen participate, within the given timeframe in order to give precise and pertinent answers. Skip logic is a feature that can be used to allow participants respond to only relevant questions.
Best analysis and reporting comes with features such as 30 different graphs to choose from and the ability to share and import reports in real-time. Online custom reports are automatically updated to everyone in real time. You even have the power to schedule automated reports and chose when they should be send to the collaborators. Qualtrics has been trusted by more than 8500 brands world-wide due to its flexibility, efficiency and simplicity.
You may like to read: Top Survey Software, Top Qualitative Data Analysis Software, and Top Free Qualitative Data Analysis Software.