Review
Qixas Group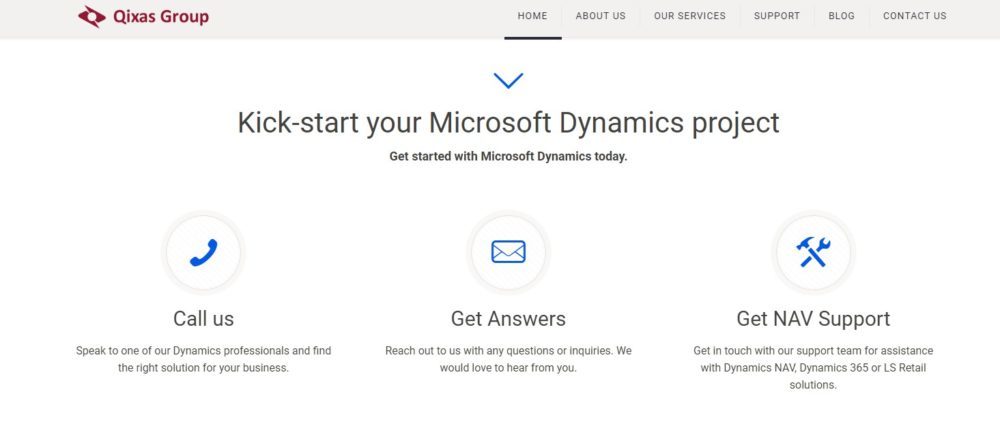 Overview
Qixas Group is an industry recognized Microsoft Gold ERP partner specializing in Dynamics NAV and CRM implementations, upgrades, training and support. Qixas consultants have combined experience of over 200 years in Microsoft Dynamics, making us one of the top Dynamics service providers in North America.
MicroSoft Dynamics Partner
• Improve your cash flow
• Increase efficiency
• Impact your bottom line
• Manage production, inventory, orders, and vendors
What are the benefits?
• Deploy on-premises or in the cloud, whichever model best fits your business
• Compete globally using multiple currencies and languages.
• Create estimates, track projects, and manage capacity.
• Manage your contacts, sales opportunities, and service contracts.
Qixas Group has worked with hundreds of businesses across North America. Qixas has learned about their challenges and has developed solutions that enhance the functionality and performance of Microsoft Dynamics NAV and CRM. Their team of consultants, developers, analysts and Microsoft Certified Trainers deliver deep knowledge in their specific areas of expertise.
With expert consultancy and the latest technology capabilities, they share subject matter and provide practical solutions that align with their clients' growth strategies. Today, their team ranks among the most experienced staff of any organization in the Dynamics channel.
With over 2 decades of experience with Dynamics NAV, their team has engaged in strategic partnerships with clients across North America, developing implementation and upgrade solutions to help them enhance their business platforms.
Qixas Group is a Microsoft Gold ERP Partner providing development, upgrades, performance optimization, training and support for Dynamics NAV and CRM for a variety of industries including retail, manufacturing, finance and many more.
Qixas Group is a full-service Microsoft Dynamics NAV partner specializing in all aspects of Dynamics NAV. Whatever your needs are, they've got you covered. Qixas Group is an industry recognized group of senior Microsoft Dynamics professionals powered by cutting-edge tools and processes. Qixas Group bring deep experience, industry best practices, and proven methodologies for delivering successful projects.
You may like to red: Top Microsoft Dynamics Implementation Partners