Review
PromoRepublic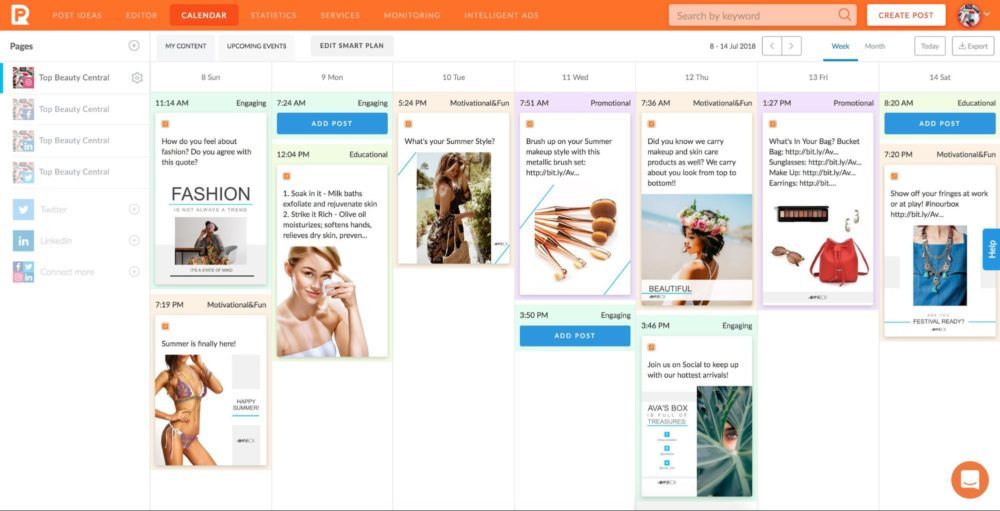 Overview
PromoRepublic is the all-in-one social media marketing platform with a set of online tools that help time-starved small businesses grow on social and agencies automate social media marketing collaboration with their clients
Social Media Marketing Tool
- Content Library with 100,000 post templates & visuals
- Drag-and-drop Graphics Editor to customize templates (logo, texts & colors) and create stunning posts from scratch.
- Auto-posting & scheduling to Facebook, Instagram, Twitter, LinkedIn
- Choosing the best times to post depending on the type of content your brand needs
- Collaboration space for agencies
- Monitoring brand mentions on Google My Business, Yelp, Instagram, Facebook, and Twitter.
SMBs, marketers, freelancers and social media agencies.
PromoRepublic is the all-in-one social media marketing platform with a set of online tools that help time-starved small businesses grow on social and agencies automate social media marketing collaboration with their clients. Smart Posting, Social Monitoring and Intelligent Ads products provide instruments to create and schedule content to Facebook, Instagram, Twitter and LinkedIn within a personalized content calendar, get analytics, and monitor the mentions of businesses on social.
PromoRepublic has an editable content ideas library with 100,000+ handcrafted visuals for 15 industries created by the team of professional designers and copywriters. Every visual can be customized using photos from integrated photostocks and easy-to-use Drag and Drop graphics editor. PromoRepublic Smart Posting product saves hours spending on getting results from social media. It allows to easily plan, publish and manage content as you can get all your posts and visuals in one place. Smart Posting can publish posts automatically by putting them in a queue using an AI engine inside which knows what type of content your brand needs and then chooses the best posting time for each account. It's also easy to get the insights on organic and paid reach, engagement and efficiency of your published posts and repost the best-perfomed ones with just a few clicks. Social Monitoring tool helps manage your brand reputation and engage with your audience on social as it helps track mentions, reviews, specific hashtags, and respond to any message. This feature is available for various platforms like Google My Business, Yelp, Instagram, Facebook, and Twitter. PromoRepublic for Agencies automates social media marketing processes for their clients. It allows collaboration of multiple users in the dashboard, which makes possible for the entire agency to get involved. It also lets you share the progress with the clients as you can also approve posts, download sharing plans and track the performance of each specific post. Intelligent Ads product promotes business and its products, giving the ability to measure ROI and ROAS from social, which is crucial for businesses that sell both online and offline.
PromoRepublic Features
Planned publishing
Multiple social media platforms
Top-notch visual content
Schedule ahead to multiple social media
Discover thousands of content ideas and events
Get traffic from Social Media
Increase Engagement
PromoRepublic Pricing
Smart Posting: starting at 9$/month
Social Monitoring: 49$/month
Intelligent Ads: 49$/month
Agency plans
Smart Posting + Collaboration: starting at $99/mo

Automated Publishing
Post Ideas Library
Graphics Editor
Collaboration and Approval Flow
30+ pages to connect
Content Bundle: Starting at $99/mo
Personalized Visual Branding
All Types of Content (Promotional, Educational, Engaging, Motivation & Fun)
Ready-To-Go Templates (both editable and reusable)
Onboarding Tutorial to help Manage Your Social Media Marketing
PromoRepublic ScreenShots