Review
Promo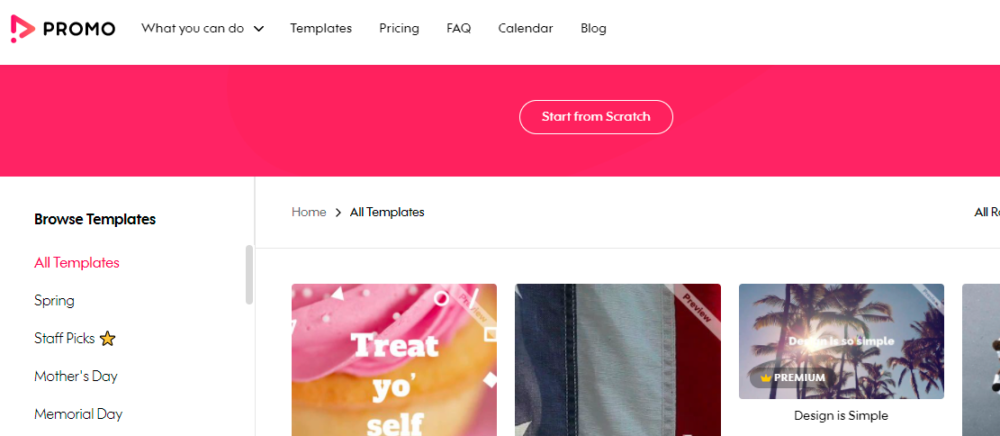 Overview
Promo.com is a cloud-based video creation solution designed to help businesses create outstanding visuals that uplift their digital marketing outreach
• Over 15 million customizable video templates
• Advanced Video Editing Features
• All industry compatibility
• Holiday and special occasions tracking calendar
• integration with several third-party solutions
Basic Plan – $49/month ($39 if billed annually)
Standard Plan – $99/month ($69 if billed annually)
Pro Plan – $359/month ($249 if billed annually)
Small (<50 employees), Medium (50 to 1000 Enterprise (>1001 employees)
What is best?
• Personalized and customizable template library
• Best-in-class customer service
• Available for all major social media platforms such as Facebook, Twitter, Instagram, etc.
• Never run out of content with it massive template Library
What are the benefits?
• Generate visibility and engagement for your business.
• Stunning marketing videos for all your marketing outreach.
• All time accessible cloud-based video creation service
Promo.com is a cloud-based video creation solution designed to help businesses create outstanding visuals that uplift their digital marketing outreach. Whether you are in retail, real estate, travel, health & fitness, ecommerce, recruiting and other industries create social media posts, landing pages, event promotions and product explainer videos. P
romo.com's advanced video making technology makes it super easy to create video ads and campaigns to promote your product or service, build brand awareness, increase traffic, and boost user engagement. To help you achieve the aforementioned benefits, Promo.com wraps a highly-effective blend of tools and features.
It combines the power of video maker, collage maker, image resizer, seasonal media calendar with suggestions, and a photo to video maker. With these tools, there is no barrier to your creative power and you can create virtually any marketing video—horizontal, vertical, square, or banner.
Besides, whether it's promo videos, inspirational videos, social media ads, product tutorials, or product videos, the app helps you make it in minutes. Beyond providing video creation tools and content, creating engaging videos can be extremely difficult especially for beginners. Fortunately, Promo.com understands this to the core and is designed to strike off the hurdles from the content creation process.
Its creative hub provides over 23 million premium HD video clips, 3000+ online video ads templates, royalty-free music, and over 1.4 million free photos that you can easily edit and customize to your liking. To help you go about this process flawlessly, the solution offers step-by-step guides and backs its service with world-class customer support. Some of the tools include a social media calendar with automatic suggestions, engagement and analytics dashboards, an ecommerce API, and a publisher.